Civil Program
Continued Vigorous Civil Enforcement Program
The Antitrust Division has continued to aggressively protect consumers through its civil enforcement program. During the past fiscal year, premerger notifications under the Hart-Scott-Rodino (HSR) Act increased over 24 percent, from 1,166 notifications in FY 2010 to 1,450 in FY 2011. The Division's merger enforcement activities have been correspondingly brisk. Since April 1, 2011, the Division filed 16 enforcement actions, up from six merger enforcement actions the prior year. Of those 16 enforcement actions, United States v. H&R Block was successfully litigated at trial, while AT&T and T-Mobile and the New York Stock Exchange and Deutsche Borse abandoned their transactions post-filing; the remainder resulted in settlement. In addition, parties either restructured or abandoned 12 other transactions in response to a Division challenge, up from six restructured or abandoned transactions the prior year. As evidenced by the updated policy guide to merger remedies and recent consent decrees, the Division, in every case, has focused on the specific facts of the proposed transaction and accepts remedies that eliminate any competitive harm.
The Division's civil investigations and subsequent challenges have helped protect competition in markets as varied as wireless communications, digital tax preparation services, hair care products, stock listing services, electricity generation, travel website software, and health insurance. The Division worked closely with a number of other Federal and State agencies as part of these investigations and litigations.
Antitrust Division Successful in Maintaining Competition in the Telecommunications Sector and Consumer Product Industries, Among Others
The Antitrust Division has protected millions of U.S. consumers in a number of key markets in the economy.
On August 31, 2011, the Antitrust Division filed a civil antitrust lawsuit to block AT&T Inc.'s proposed acquisition of T-Mobile USA Inc., which would have resulted in tens of millions of U.S. consumers facing higher prices, fewer choices, and lower quality products for their mobile wireless services. The proposed transaction, which would have combined two of the four national wireless carriers accounting for more than 90 percent of mobile wireless connections, would have eliminated a competitor that had been an important source of innovation and price competition in the wireless industry. The Division was joined in its lawsuit by state attorneys general from California, Illinois, Massachusetts, New York, Ohio, Pennsylvania, Puerto Rico, and Washington, and coordinated its review of the proposed transaction with the Federal Communications Commission. On December 19, 2011, the parties announced that they were abandoning the merger, a resounding victory for consumers in the wireless marketplace who rely on competition to drive innovation and keep prices competitive.
Press Releases
August 31, 2011
Justice Department Files Antitrust Lawsuit to Block AT&T's Acquisition of T-Mobile
Remarks as Prepared for Delivery by Deputy Attorney General James M. Cole at the AT&T/T-Mobile Press Conference
Remarks as Prepared for Delivery by Acting Assistant Attorney General Sharis A. Pozen at the AT&T/T-Mobile Press Conference
December 19, 2011
Justice Department Issues Statements Regarding AT&T Inc.'s Abandonment of its Proposed Acquisition of T-Mobile USA Inc.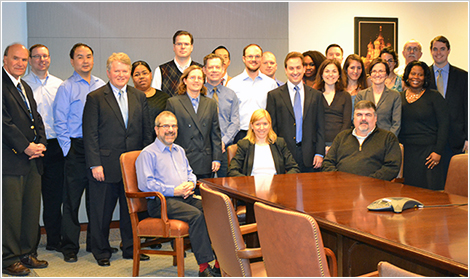 Telecommunications and Media Enforcement Section. Click the photo to see a larger image and description.
As the Division was announcing the filing of its lawsuit against AT&T and T-Mobile, it was gearing up for its first contested merger litigation since 2004. On May 23, 2011, the Division filed a complaint to block H&R Block Inc.'s proposed acquisition of TaxACT (AAG Varney remarks), a digital do-it-yourself tax preparation software provider, and the matter went to trial on September 6, 2011. The Division maintained that the proposed merger of two of the three largest tax software providers, which together account for approximately 90 percent of all sales of these types of products, would substantially lessen competition in the tax preparation software market, resulting in higher prices, lower quality, and reduced innovation. In addition, the Division argued that the elimination of the TaxACT business, which has been a maverick in the market, would make it easier for H&R Block to coordinate on prices, quality, and other business decisions with the remaining industry leader, Intuit, the producer of personal finance programs such as Quicken and TurboTax. U.S. District Judge Beryl Howell of the U.S. District Court for the District of Columbia issued an order on October 31, 2011, in which she agreed with the Division that the proposed merger would violate U.S. antitrust laws, and permanently prevented the merger. In her decision, Judge Howell cited the 2010 Horizontal Merger Guidelines on a number of contested points.
On May 16, 2011, after the Division informed the parties it was prepared to file an antitrust lawsuit to block their proposed transaction, NASDAQ QMX Group Inc. and IntercontinentalExchange Inc. abandoned their joint bid to acquire NYSE Euronext (AAG Varney remarks). NYSE and NASDAQ operate the major U.S. stock exchanges, and are the only competitors in several businesses vital to the success of the U.S. equity markets, including the provision of corporate stock listing services, opening and closing stock auction services, off-exchange stock trade reporting services, and real-time proprietary equity data products. The Division concluded that the transaction, had it been allowed to proceed, would have substantially eliminated competition for those services and resulted in the loss of an incentive to price competitively, maintain high-quality service, and innovate in these listing, trading, and data services that are crucial to the investing public and to new and established companies that need access to U.S. stock markets.
On May 12, 2011, the Division filed a complaint to block VeriFone Systems Inc.'s proposed acquisition of Hypercom Corp., alleging that the proposed acquisition would substantially lessen competition in the sale of point-of-sale (POS) terminals, which are used by retailers and other firms to accept electronic payments such as credit cards and debit cards. The parties had attempted to resolve the Division's concerns that the transaction would result in higher prices and reduced innovation, quality, product variety, and service, by divesting Hypercom's U.S. POS business to the remaining major U.S. competitor, Ingenico S.A. However, since the proposed fix failed to create another significant competitor to replace lost competition from the proposed merger and enhanced VeriFone's and Ingenico's ability to coordinate pricing for all POS terminals, the Division sued to enjoin both the original transaction and the proposed divestiture. The parties abandoned their plans to divest Hypercom's U.S. POS business to Ingenico on May 20, 2011, and a settlement was obtained on August 4, 2011. Under the settlement agreement, Hypercom's U.S. POS business was sold to an entity sponsored by Gores Group LLC, a private equity fund, which created an independent and significant U.S. competitor, ensuring that competition will remain in the POS terminals market.
On November 8, 2011, the Division, joined by the State of Montana, obtained a settlement with New West Health Services Inc., requiring it to sell the majority of its commercial health insurance business to a third-party buyer and to agree to other relief before five of New West's six hospital owners could proceed with an agreement to purchase health insurance exclusively from Blue Cross and Blue Shield of Montana Inc. for six years. As originally proposed, the transaction would have effectively decreased the number of significant competitors in the affected markets in Montana from three to two by causing New West to exit the market for commercial health insurance, resulting in higher prices and lower quality of services. To preserve competition, New West was required to divest its commercial health insurance business to PacificSource Health Plans and to enter into three-year contracts with PacificSource while using their best efforts to assign the health care providers contracts not under their control to PacificSource, or to lease New West's provider network to PacificSource for up to three years. In addition, under the terms of the settlement, Blue Cross is prevented from interfering with PacificSource's ability to compete effectively and is required to notify the Division and the State of Montana before it enters into potentially anticompetitive contractual arrangements with health insurance brokers or health care providers. This settlement is currently under Tunney Act review.
On December 21, 2011, the Division obtained a settlement with Exelon Corporation and Constellation Energy Group Inc., requiring the parties to divest three electricity generating plants in Maryland in order to proceed with their proposed merger. The merger combined the assets of two large competitors in the mid-Atlantic region, enhancing the incentive and ability of the merged firm to raise wholesale electricity prices and reduce output. The remedy, which is currently under Tunney Act review, required the divestiture of the three plants in order to preserve critical competition for the benefit of electricity customers throughout the mid-Atlantic region.
On May 6, 2011, the Division obtained a settlement with Unilever and Alberto-Culver Co., requiring the divestiture of two hair care brands (Alberto-Culver's Alberto VO5 brand and Unilever's Rave brand) in order for Unilever to proceed with its proposed acquisition of Alberto-Culver. The remedy will preserve price competition in the markets for value shampoo, value conditioner, and hairspray sold in retail stores.
Building on the insights developed over the course of the public Agriculture Workshops held in 2010, the Division also continues to investigate vigilantly and challenge transactions that reduce competition in agriculture markets. On June 23, 2011, the Division and George's Inc. reached a settlement that resolved the competitive concerns alleged in the Division's May 10, 2011 complaint regarding George's acquisition of Tyson Foods' Harrisonburg, Virginia chicken processing complex. After the parties announced the non-Hart-Scott-Rodino reportable transaction in March 2011, the Division provided notice that it had opened an investigation and requested information about the potential competitive effects of the transaction. Before providing the requested information, the parties closed the transaction, reducing the number of chicken processors in Virginia's Shenandoah Valley region from three to two. The Division immediately sued. George's subsequently agreed to make important capital improvements to the Harrisonburg, Virginia plant to resolve concerns stemming from the transaction's reduction in competition for chicken grower services, which ultimately reduces chicken growers' ability to receive competitive prices for their services. These capital improvements, which included the installment of a special freezer and deboning equipment, will lead to an expansion in capacity at the processing facility, giving George's the incentive and ability to increase local poultry production and averting the likely anticompetitive effects arising from the acquisition.
Civil Nonmerger Enforcement Activity Continues
The Antitrust Division has continued to vigorously litigate its ongoing challenges to contractual restrictions that illegally distort competitive forces in the markets for health insurance and consumer credit cards, and has obtained prompt settlements remedying competitive harm in other instances.
Litigation is ongoing in the Division and State of Michigan's lawsuit against Blue Cross Blue Shield of Michigan, originally filed in October 2010. The Division alleged that provisions of Blue Cross's agreements with hospitals, known as most favored nation clauses, have the effect of raising hospital prices, preventing other insurers from entering the marketplace, and discouraging discounts. As a result, Michigan consumers pay higher prices for their health care services and health insurance. Trial is currently set for April 2013.
Litigation is also ongoing in the Division's lawsuit against American Express, which is joined by several States and was originally filed in Oct. 2010. The complaint challenges rules that American Express, Visa, and MasterCard have in place that prevent merchants from offering consumer discounts, rewards, and information about the costs related to use of their credit cards, thereby raising the costs for merchants and, ultimately, resulting in consumers paying more for their purchases. The Division obtained a settlement with MasterCard and Visa, under which MasterCard and Visa agreed to lift their anticompetitive restrictions on merchants, and a final judgment was entered on July 20, 2011. The ongoing litigation against American Express seeks to reach the same result, so that merchants will be able to take full advantage of their new options under the proposed settlement with Visa and MasterCard. Discovery is currently scheduled to be completed in late 2012; a trial date has not yet been set.
Litigation III Section. Click the photo to see a larger image and description.
On September 30, 2011, the Division filed a settlement agreement with Morgan Stanley, to resolve Morgan Stanley's liability for its role in entering into anticompetitive financial swap agreements with KeySpan Corporation, to the detriment of electricity consumers in New York. Morgan Stanley and KeySpan's arrangement restrained competition in the New York City electricity capacity market, resulting in a price increase for electricity retailers and ultimately consumers. Building on last year's precedent-setting ruling in the KeySpan case, the Division secured an agreement by Morgan Stanley to disgorge $4.8 million of its profit as part of its settlement agreement.
On February 15, 2012, the Division obtained a settlement with Gunnison Energy Corporation (GEC), SG Interests I Ltd., and SG Interests VII Ltd. (SGI), which required the companies to pay a $550,000 fine for agreeing not to compete when bidding for four natural gas leases auctioned by the U.S Department of the Interior's Bureau of Land Management (BLM). This settlement marks the first time the Division has challenged an anticompetitive bidding arrangement for mineral rights leases. As BLM relies on competition among bidders at oil and gas lease auctions to ensure that the United States receives a fair and competitive price for its leases, this enforcement action will help protect the American taxpayers by deterring anticompetitive and fraudulent bidding activity at such auctions. This settlement is currently under Tunney Act review.
Antitrust Division Activities, Technology and Intellectual Property
May 12, 2011, marked the expiration of the final judgment obtained by the Division in 2002 as part of its historic Microsoft antitrust case. The final judgment was designed to eliminate Microsoft's illegal practices and to restore the potential for competition from software products known as "middleware." The final judgment proved effective in protecting the development and distribution of middleware products, and nearly every desktop middleware market—from Web browsers to media players to instant messaging software—is more competitive today than when the final judgment was entered. Furthermore, the final judgment helped to create the competitive conditions that enabled the emergence of new kinds of products, such as cloud computing services and mobile devices, to develop as potential platform threats to the Windows desktop operating system.
Mindful of the lessons learned from the Microsoft investigation and litigation, the Division remains keenly attuned to the potential for anticompetitive effects through use of technological dominance and intellectual property rights to stifle competition. To that end, on April 8, 2011, the Division obtained a settlement with Google Inc., requiring it to develop and license travel software, to establish internal firewall procedures, and to continue software research and development in order to proceed with its acquisition of ITA Software Inc. The remedy promotes competition for airfare websites by ensuring competing websites will continue to have access to ITA's pricing and shopping software by requiring Google to continue to license ITA's software on commercially reasonable terms, as well as to continue to fund research and development and make next generation ITA products commercially available to competitors. Finally, the final judgment prohibits Google from engaging in specific exclusionary tactics such as entering into agreements with airlines that would inappropriately restrict the airlines' right to share seat and booking class information with Google's competitors.
The Division focused on similar concerns in its investigations into three transactions involving the transfer of numerous patents: Google Inc.'s acquisition of Motorola Mobility Holdings Inc., the acquisitions by Apple Inc., Microsoft Corp. and Research in Motion Ltd. of certain Nortel Networks Corporation patents, and the acquisition by Apple of certain Novell Inc. patents. Ultimately, the Division concluded that each acquisition was unlikely to substantially lessen competition, but only after conducting an in-depth analysis into the potential ability and incentives of the acquiring firms to use the patents they proposed to acquire to foreclose competitors. In particular, the Division focused on standard essential patents (SEPs) that Motorola and Nortel had committed to license to industry participants through their participation in standard-setting organizations, and whether the acquiring firms could use these patents to raise rivals' costs or foreclose competition. While the specific transactions at issue were not likely to significantly change existing market dynamics, the Division will continue to monitor the use of SEPs in the wireless device industry in light of the importance of this industry to consumers and the complex issues raised by the intersection of intellectual property rights and antitrust law.
Litigation II Section. Click the photo to see a larger image and description.