Harbor Contamination with PCBs
From the late 1940s to the late 1970s, electric capacitor manufacturing plants operated along the shore of New Bedford Harbor in southeastern Massachusetts. The Aerovox plant is located at the northernmost end of the inner Harbor on the Acushnet River Estuary, where the Acushnet River flows into the Harbor. The Cornell-Dubilier plant is a short distance south (i.e., seaward) of a structure known as the Hurricane Barrier, which separates the inner Harbor from the outer Harbor.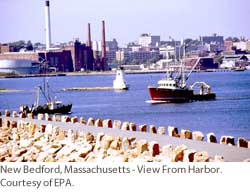 Both the Aerovox and Cornell-Dubilier plants used poly-chlorinated bi-phenyls (PCBs), a probable human carcinogen, in the capacitors from approximately 1947 to 1978. During that period, the buildings, structures, and grounds of both plants became contaminated with PCBs from accidental spills and intentional dumping. These PCBs were transported onto the adjoining shorelines and into the Harbor through the pipes, drains, troughs, storm runoff, and intentional dumping over the years of PCB operations.
PCBs released from the Aerovox and Cornell-Dubilier plants contaminated the sediments of the Upper Estuary at levels ranging up to
190,000 parts per million (ppm). The PCBs in sediments are continually released into the water. The PCBs are taken up by fish and shellfish and have been found in many species -- including lobsters, flounders, eels, and bluefish -- at concentrations well above safe levels for eating. This contamination led Massachusetts in 1979 to:
Close an 18-square-mile area of the Harbor to lobstering;
Close a smaller area to all fishing for bottom-feeding species such as flounder, tautog, scup, and eels; and
Ban fishing entirely in a northern section of the Acushnet River Estuary.
Of the nearly 100,000 population of New Bedford, nearly 40% are Portuguese, so that signs banning fishing were always displayed in Portuguese and English to effectively warn the community of the dangers from eating the fish.
CERCLA Civil Complaint
In 1983, the Justice Department filed a civil complaint under CERCLA, the Superfund law, charging that the defendants that had operated at the two plants were responsible for the releases of PCBs from the manufacturing plants adjacent to the Harbor. Massachusetts also filed its complaint at that time. Both complaints sought damages for the injured natural resources, and cleanup costs.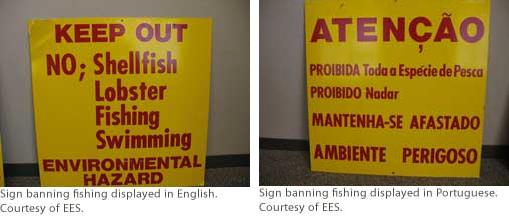 Outcome:

After years of extensive litigation, the final settlement in the case was reached in 1992, and provided the United States with more than $100 million to clean up the harbor and restore the natural resources.
EPA is using its share of the funds to implement an extensive multi-year dredging project in the Harbor to remove the contaminated sediments from the Inner Harbor.
The federal and Massachusetts natural resource trustees are using natural resource recovery monies to plan and implement the actions to restore the natural resources and services harmed by the releases of PCBs into the Harbor.