Director - Interpol Washington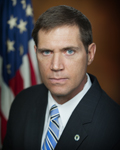 Geoffrey S. Shank
Director
INTERPOL Washington
Geoffrey S. Shank commenced his appointment as the Director of INTERPOL Washington, the United States National Central Bureau on October 24, 2015. As Director, Mr. Shank acts on behalf of the Attorney General as the official U.S. representative to the International Criminal Police Organization (INTERPOL) located in Lyon, France. Mr. Shank is focused on improving partnerships between the other 189 INTERPOL member countries and U.S. federal, state, local, and tribal law enforcement.
Mr. Shank studied at the University of Maryland, where he earned a Bachelor's degree in Criminology in 1988. Additionally, he is a graduate of the Senior Management Institute for Police, the John F. Kennedy School at Harvard University and the National Security Executive Leadership Program, Department of State, Foreign Service Institute. He began his career in law enforcement with the Ocean City Maryland Police Department while still in college. After graduation, Mr. Shank became a Deputy U.S. Marshal, stationed in the District of Columbia. Over the course of 26 years of service, Mr. Shank has played a vital role in many significant achievements including the pioneering of mutually beneficial relationships with Native American Tribal leaders, the expansion of Foreign Field Offices, leading his agency in the capture of the D.C. Snipers as well as 13 U.S. Marshals Service 15 Most Wanted Fugitives, providing security and infrastructure in the aftermath of Hurricane Katrina, and the protection of Supreme Court Justice Clarence Thomas and his family. He has held positions of increasing responsibility to include Supervisory Instructor, Commander, Chief Inspector, Deputy Assistant Director for the Office of Professional Responsibility and Assistant Director pro tem for the Investigative Operations Division, accountable for the U.S. Marshals criminal investigative and technological programs. In 2012, he was appointed Deputy Director, INTERPOL Washington.
As the Deputy Director, Mr. Shank was the Chief Operational Officer with oversight of all assets and personnel dedicated to INTERPOL's global mission of supporting law enforcement through information sharing and capacity building with a global focus to combat terrorism, cybercrime, human trafficking, protecting our children and battling transnational organized crime. He was personally responsible for spearheading the drafting of several key components of U.N. Security Council Resolution 2178. This resolution integrated INTERPOL into the U.S. national security strategy, encouraging capacity building and the utilization of INTERPOL's tools and services around the world. Mr. Shank has personally overseen vital capacity building programs that have enabled actionable intelligence to be transmitted in real time to appropriate U.S. agencies and brought together INTERPOL counterparts to counter the foreign terrorist fighter threat. As Deputy Director, Mr. Shank facilitated the expansion of INTERPOL's Stolen and Lost Travel Document program, co-authored an unprecedented collaboration with Europol and supported the development of ground breaking global information sharing mechanisms with the Criminal Justice Information System. He has been recognized by the Department of Justice and the U.S. Marshals Service numerous times, including the highly-regarded Attorney General's Award for Excellence in Law Enforcement for his efforts towards the reduction of violent crime.
Deputy Director - Interpol Washington
Wayne Salzgaber
Deputy Director
INTERPOL Washington
Updated November 4, 2015