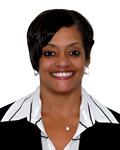 Quote: Serving in the US Air Force provided me with thediscipline, training and leadership skills that were required to secure a position at the Department of Justice/Office of Justice Programs (OJP) as an Associate Director of Personnel Security. I really enjoy working at OJP because I constantly receive support from my Security Team, immediate supervisor- the Deputy Director of Human Resources Division and Director of Office of Administration. I am very grateful that I was able to serve in the Armed Forces and that I am able to continue to serving as a civilian in the US Government.


Name: Kimberly
Organization: Office of Justice Programs - Office of Administration, Human Resources Division
Current Title/position: Associate Director of Personnel Security/Supervisory Personnel Security Specialist
How long have you been with the company? 9 ½ months
Prior experience before joining this organization after you left the military: I have over 13 years of experience in Personnel Security
Branch of service: United States Air Force
Years of service: 7 years 4 months and 28 days
Education: Three years of College (89 credit hours). I will be enrolling into a Paralegal Studies Program with University of Maryland in the Fall of 2011
How did you find your current job? USA Jobs - internet
What is your position and how did your military service fit into your current career (assuming it did)? My military service fits into my current position because I was a supervisor as a Law Enforcement Journeyman and Paralegal Specialist. The USAF taught me discipline and how to work as a team. I attended the Ira Baker Paralegal School and the Law Enforcement Academy while on active duty. In addition, I was selected to serve in the USAF Honor Guard and provided OSD Sentry to Mr. Dick Cheney. Also, I was selected to provide ushering services at President Clinton's Inauguration in the VIP Section. In my current position, I will supervise a Team Lead and two Personnel Security Specialists. I began training individuals when I was an Airman First Class and continue to train at several different levels.
How did you get your job - what background/education/experience is helpful? I was able to apply for the Personnel Security Team Lead Position based on me being a Veteran (Status Only). I didn't have the 10 point advantage but it allowed me to apply based on my experience in the Personnel Security Field. My background was very strong because I created a Personnel Security Training Program and I had experience in adjudications, investigations, scoping and paralegal studies.
How was your transition from military life to your civilian career? My transition from military life to civilian life was a challenge at first because I wasn't sure exactly how much money I needed to make in the civilian world. I was used to working a lot of hours in the military and wasn't paid overtime and my first job in the civilian world I was taken advantage of because of this. I use to work over 60 hours a week and never was compensated because in the military you are never compensated for extra hours. Now, I am educated and aware of the rules and regulations that apply with the Department of Labor and I am fully aware of what is legal and what is not legal to do.
Do you continue to serve in the reserves, and if so, how has that worked in blending the military and civilian life? At first I served approximately one year in the reserves. I stopped after I was notified that I was awarded disability for my service connected injuries.
What made you decide to go into this field? I enjoyed working in both the Paralegal and Criminal Justice Fields and Personnel Security is a great way to utilize these skills. My investigative training and analytical/research has played a big factor on me being a successful Personnel Security Specialist and excellent at identifying issues that require mitigation. Also, being aware of the different crimes and legal cases that have changed the laws are extremely helpful.

Any advice for soon-to-be veterans who may want to chose this career field? This is a great field to get into. It allows you to interact with all types of individuals and provides you with the tools of not being prejudicial towards individuals that encounter problems. This field is never boring and you will be challenged because you must utilize your analytical skills and apply the Executive Orders.
What are your best three transition tips for other soon-to-be veterans?
Know what type of jobs that you are qualified for prior to applying and utilize your Veterans Preference.
Be able to translate your current net pay (include your food and housing allowance) to the amount of money required to maintain your current bills.
Ensure that you have an excellent resume and at least three references.