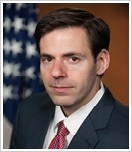 John P. Carlin is the Assistant Attorney General for National Security of the Department of Justice (DOJ). He most recently served as Principal Deputy Assistant Attorney General and Chief of Staff of the DOJ's National Security Division (NSD). In addition to providing strategic legal advice to senior DOJ leaders and coordinating national security initiatives across the Government, Mr. Carlin also oversees and manages the full spectrum of NSD's work. Previously, Mr. Carlin served as Chief of Staff and Senior Counsel to Robert S. Mueller, III, Director of the FBI, spearheading high-priority projects, advising the Director, and managing the day-to-day operations of the Director's Office.
A career federal prosecutor, Mr. Carlin served as National Coordinator of DOJ's Computer Hacking and Intellectual Property (CHIP) program, which consisted of 240 AUSAs and DOJ prosecutors specially trained to prosecute cyber crime and intellectual property cases and to handle complex issues arising from the collection of digital evidence. In addition, as an Assistant United States Attorney (AUSA) for the District of Columbia, Mr. Carlin prosecuted cases ranging from homicide and sexual offenses to cyber, fraud, and public corruption matters.
Mr. Carlin, who joined DOJ through the Attorney General's Honors Program in 1999, earned his Juris Doctor degree in 1999 from Harvard Law School, where he received the Samuel J. Heyman Fellowship for Federal Government Service and served as Articles editor for the Harvard Journal on Legislation. Mr. Carlin earned his Bachelor of Arts degree magna cum laude in 1995 from Williams College, where he was elected to Phi Beta Kappa.