The U.S. Attorney's Office for the District of Columbia has long believed that a problem-solving approach to law enforcement is essential for reducing crime, enhancing public safety, and improving the quality of life in the District of Columbia.  In 1995, the Office implemented the Community Prosecution Initiative, which involves not only prosecuting criminals and litigating cases, but connecting with stakeholders to understand the needs and gaps in services within our local communities.   This community-based strategy enables community prosecutors and community outreach specialists to work directly with residents, local businesses, nonprofit organizations, and other community stakeholders to develop a comprehensive approach to fighting crime and protecting and defending the rights and interests of the residents of this city.  Our present strategy focuses on: building bonds of trust between the Office and the community, enhancing public safety through education, and increasing community participation in the criminal justice system.  This strategy is implemented through community outreach programs, youth engagement, and reentry initiatives.  If you would like to have more information about our programs, please call 202-252-6930 or email dc.outreach@usdoj.gov.
I. COMMUNITY OUTREACH PROGRAMS
Clergy Ambassador Program
The mission of the Clergy Ambassador Program (CAP) is to formalize a working relationship between our Office and the Washington, D.C. clergy. Our goal is to form a partnership that will promote trust and mutual respect between law enforcement and the community, and to improve the quality of life of all Washington, D.C. residents by reducing crime enhancing public safety.
The CAP is open to all faith-based leaders. Each respective leader is encouraged to invite other members from within their organization; but the respective leader of each organization is expected to have involvement in the program. Participants must register with CAP and each participant preferably should be a member of the clergy or a religious or community organization. After registration, participants are expected to attend an initial training. Thereafter, there will be six bi-monthly meetings where clergy ambassadors will be trained/provided information about the topics listed in the program's curriculum.
Click here to complete the Clergy and Law Enforcement Forum Survey.
Senior Seminars
Our Office has developed two important but distinctly different senior seminars, "Financial Crimes Against Seniors" and "Elder Abuse and Exploitation of the Elderly." We routinely conduct these presentations in senior dwellings and at senior programs throughout the city.
The "Financial Crimes Against Seniors" seminar is presented in partnership with the D.C. Department of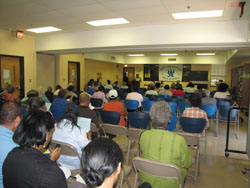 Insurance, Securities and Banking and the D.C. Office of the Inspector General. These presentations are designed to educate and increase awareness of financial scams, such as advance fee loan scams, telephone scams, home lending and foreclosure rescue scams and how- to-get-rich-fast scams.
The "Elder Abuse and Exploitation of the Elderly and Vulnerable Adults" seminar is designed to empower seniors and vulnerable adults to recognize, prevent and report physical, psychological, and financial abuse and neglect.  The U.S. Attorney's Office's Victim Witness Assistance Unit and Community Prosecution staff partner with the D.C. Adult Protective Services and D.C. Medicaid Fraud Control Unit to conduct this presentation.  Participants are provided with resources as to where they can find help in the event they become victims of abuse.
Domestic Violence Presentation
Domestic Violence seminars are designed to reach out to community members in order to educate them about the signs of domestic abuse.  The Office also encourages them to report domestic violence while providing information about the various resources that the Office, and other local agencies provide to domestic violence victims.  We have domestic violence presentations specifically tailored for teens, women, men, senior citizens, and reentrants.
Child Abuse Awareness and Infant Fatality Prevention
The Office has developed a presentation that addresses child abuse awareness and infant fatality prevention.  The presentation was developed to address the protection of the youngest members of society from trauma, accidents, and death.  Two of the main topics of the presentation are infant trauma and bed-sharing rollover deaths while parenting under the influence.  Smart and safe choices in caregiving and creating safe sleep environments are emphasized during the presentations.
DC Hate-Bias Task Force
The Office makes consistent efforts to reach the various diverse community groups living in the District.  These efforts are facilitated through our Hate-Bias Task Force.  The Hate-Bias Task Force is a collaborative of agency and community partners in the District who focus on addressing the needs of the various affinity groups in the city and combating hate-bias crimes. In addition, the Task Force, in an effort to educate the community about the criminal justice system and to develop bonds of trust between these communities and law enforcement, has conducted various outreach programs.  For instance, at Foundry United Methodist Church, we conducted a forum explaining both the criminal justice system and the law surrounding hate-bias crime to the Lesbian, Gay, Bi-Sexual, Transgender and Questioning community.  We have also had similar programming for the Hispanic and African communities.
Muslim and Immigrant Outreach
Our Office has made a concerted effort to build relationships with every segment of our diverse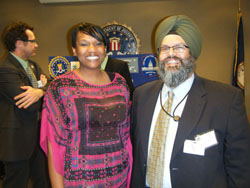 community.   We have hosted multiple meetings with Arab, Muslim, and Sikh communities, including supporting the local Sikh community at a vigil during the aftermath of the shooting at a Sikh Temple in Wisconsin, and by joining our Muslim neighbors for an Iftar dinner during the month of Ramadan.   In addition, we hosted a special event at the Howard University School of Divinity entitled, "The Modesty We Share: A Women's Interfaith Dialogue."  The event was held in conjunction with Masjid Muhammad, the Muslim Public Affairs Council, and the Federal Bureau of Investigation's Washington Field Office. The purpose of the symposium was to emphasize commonalities between the Muslim community, and the broader D.C. community, as well as to act as a forum through which speakers could respond to discrimination against our Muslim neighbors.  One such commonality is the religious practice of modesty in dress and head covering, a practice that unites women across many religious communities. The program organizers hoped that when people realize that these practices, in varying degrees, are shared by a variety of religions, it would bring a greater understanding of the Islamic tradition of wearing a burqa and hijab.
Property's Manager Group
Our Office, in partnership with the Metropolitan Police Department, facilitates Property Managers and Owners groups in police districts 1, 3, 4, 5, 6 and 7.  The Property Managers meetings are specifically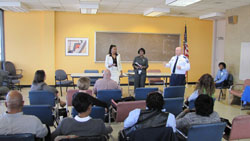 designed to address the concerns of property owners and property managers.  During these meetings, property managers have an opportunity to meet and network with other property managers.  Through these meetings, they are able to discuss ways to address commonly shared public safety and quality of life issues, as well as any additional problems and concerns that may be present.  This collaboration ultimately increases public safety and reduces crime through community partnership and collective problem solving.
Additionally, we assist by bringing in guest speakers to give property managers technical insight on a vast array of subjects. Topics that have been addressed include truancy, the eviction process, loitering, how to effectively use barring notices, how to write community and victim impact statements, domestic violence and victim witness resources, the criminal intake process, parent resources, rental lease agreements, and relocating challenging tenants.
Court Reports
The Court Report is a monthly newsletter that our Office created for the community in each police district.  The report contains a synopsis of significant cases where the defendant has been indicted, pled, or sentenced for a crime that occurred in their district.  The Court Report also provides a list of adult arrests papered by the Office during the previous month.  This report is disseminated to the community via email and at community meetings.  Community prosecutors and community outreach specialists encourage the community to review the report to see if any offenses occurred in their neighborhoods and then assist the community in writing community impact statements to be presented to the court at the time of sentencing.
Community Impact Statements
A Community Impact statement is a description by a community of how a crime or a series of crimes has affected their community.  This statement is submitted to the court by prosecutors to provide information that can assist the court in making sentencing decisions about offenders convicted of the crime(s).  A community impact statement must be submitted by an informal or formal association or group of people living, working or attending school in the same place or neighborhood and sharing a common interest arising from a social, business, religious, governmental, scholastic, or recreation association.  The community impact statement must also be signed by the group's or organization's designated representative.  The designated representative may sign the community impact statement anonymously. Information from the community has been helpful in the past in focusing the court on specific ways crime has impacted particular neighborhoods.
Community prosecutors, who are housed in each police district, are available to assist community members in preparing an impact statement, and can assist in identifying appropriate cases in which to submit a community impact statement.  Factors to consider in completing your statement:
How has the crime affected you and your community?
Has it had a negative effect on your community's attitudes about itself? (For example, has the crime given rise in the community to feelings of anger, rage vulnerability, fear, paranoia, hopelessness, frustration, or loss of trust and faith in society?)
What is the social or economic impact of this crime on your neighborhood? (For example, are children kept indoors more, is it more difficult to safely use parks, are businesses less likely to stay or come to your neighborhood, have you spent more money or other resources as a result of   having a crime committed in your neighborhood, etc.)
What is needed to return your neighborhood to the conditions that existed prior to the crime being   committed?
What do you think is an appropriate sentence for this offense?
In order to allow time for your community impact statement to be submitted and fully considered by the sentencing judge, please return the completed community impact statements at least 10 days prior to the sentencing date to the Community Prosecution Office in your police district.
When submitting community impact statements, please provide the name, number and address of a contact person, but do not put this information on the community impact statement.
Community Meetings and Events
The Office's leadership team, community prosecutors, and community outreach specialists attend
numerous community meetings and events throughout the District each month.  During these meetings, in an effort to improve transparency in the criminal justice system, community prosecutors educate the community about our Office and the inner workings of the criminal justice system.
II. Youth Engagement Programs
Our Office has implemented various youth engagement programs in an effort to foster positive decision-making and to deter youth from criminal behavior.  It is the goal of our Office to expose youth to the inner workings of the criminal justice system and discourage them from engaging in drug, gangs, and gun violence.  We hope to accomplish this through a variety of programs and events that have been specifically developed for this target audience.
The United States Attorney in the Schools Lecture Series
U.S.  Attorney Ronald C. Machen, Jr. established "The United States Attorney in the Schools Lecture Series."  This lecture series encourages high school students to make responsible decisions and to show them the rewards of positive decision making.  U.S. Attorney Machen has spoken at nearly every public and charter high school throughout the District of Columbia within the last three years.  His lecture series helps to strengthen our partnerships within the schools, and oftentimes lead to other beneficial opportunities such as internships for students.
East of the River Youth Court Club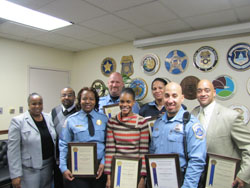 In partnership with the Friendship Collegiate Public Charter School, local law schools, and the Metropolitan Police Department, the East of the River Youth Court Club (ERYCC) was created. The East of the River Youth Court meets twice a month at the Friendship Collegiate Public Charter High School in southeast Washington, DC. ERYCC serves as a high school student driven tribunal which decides disciplinary cases of other high school students that are referred to the tribunal by teachers and the principal. High school students serve as the judge, defense attorneys, prosecutors and jury.
Youth Motivation Program
The U.S. Attorney's Office's Youth Motivation Program is designed to expose at-risk youth to the inner workings of the criminal justice system and to discourage them from engaging in gang and gun violence.  The program includes a visit to the courthouse where the students:
watch a court hearing;
meet with a judge for a question and answer session; and
hear a presentation by a homicide detective.
The students then hear a presentation by the United States Attorney and watch two video presentations: "Stop the Violence" and the "Valedictorian Speech."  Our Office has hosted numerous Youth Motivation Programs involving students from middle schools, high schools, and foreign exchange student youth programs since 2011.
Youth Summit
The Office along with Project Safe Neighborhoods Task Force agencies and numerous community based organizations hosted the third annual "Breaking the Silence on Youth Violence Summit." This anti-violence summit attracted over 500 youth participants. The summit began with a plenary session that focused on the consequences of gun violence and drug abuse, and challenged youth participants to accept their role in stopping youth violence by making better decisions and encouraging cooperation with law enforcement. This session was followed by two breakout sessions where youth were separated by gender. During these sessions boys and girls had an opportunity to separately learn about sexual assault prevention. Students heard from a panel of experts and community partners where they learned options to avoid conflict and build a more positive lifestyle. The Summit concluded with special appearances by National Football League players, and hip-hop performances. Additionally, the Summit included a youth informational fair where non-profit organizations provided information on youth development programs, mentoring and educational youth activities.
Project Legal Enrichment and Decision Making (Project L.E.A.D.)
Project L.E.A.D is an initiative that partners our attorneys and support staff with D.C. Public Schools to provide mentoring and an interactive curriculum to 5th graders.  The program shapes good decision-making skills and teaches components such as conflict resolution, critical thinking, and responsibility.  The mentors meet with students twice a month for an hour to implement an interactive curriculum designed for student participation and unique learning.  This year we have brought Project L.E.A.D to sixteen D.C. Public Schools.  Approximately forty attorneys and support staff members from our Office participate as mentors in the program, and well over three hundred children participate in Project L.E.A.D.
Career Exploration in Law
A newly established Career Exploration in Law Post started in 2012 at the U.S. Attorney's Office.  The group consists of students who have graduated from the Drug Education for Youth program and have continued to build leadership skills and engage in service roles in the community.  The youth are ages 11 through 16 and have the opportunity to learn about careers in law, law enforcement, and the military from special guest speakers, participation in events, and field trips.  The Leadership Academy is also engaged in outreach to the community. The youth created their own tenets for being leaders: Leadership, Education, Advancement, Determination, Excellence, and Responsibility.
Internet Safety Presentations
Internet Safety presentations are designed to inform not only youth, but parents, educators, senior citizens, and caregivers about the dangers and risks of the Internet.  Our presentations teach social etiquette to establish an awareness of all the dangers and scams lurking online.  Internet safety presentations for youth are designed to create an atmosphere that encourages them to have a dialogue with trusted adults in their lives about their online behaviors.  We talk to our audiences about sexual predators, cyber bullying, sexting, online gaming and social networking.  Additionally, they are taught the three rules of internet safety:
Tell a trusted adult if anything makes you feel sad, scared or confused;
Never give out your personal information without parental permission and
Never meet someone in person that you first met online.
III. Reentry Outreach
Our Office has sought to be a leader in the Justice Department's efforts to support the reentry of former offenders to the community following their incarceration.  We recognize that returning citizens face serious obstacles to success, such as obtaining employment and housing, and that reducing recidivism requires community-wide collaboration.  The U.S. Attorney's Office has partnered with federal and local agencies and community-based organizations to implement a District-wide reentry strategy.  We have also focused our efforts on educating recently released individuals about the negative consequences of violating the terms of their supervision.  At the same time, the Office hosted forums to educate business leaders and the community at-large about the importance of supporting citizens as they return from prison. By building support mechanisms for reentrants, we hope to reduce recidivism, enhance public safety, and help returning citizens begin to make positive contributions to our community.
Updated February 25, 2015