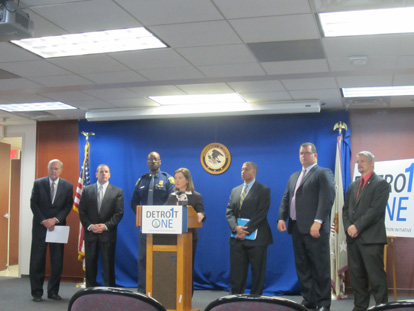 U.S. Attorney joins with other Detroit One law enforcement partners and Crime Stoppers to announce a new anti-carjacking initiative.
The U.S. Attorney's Office for the Eastern District of Michigan enforces violations of criminal and civil law, including terrorism and national security matters, serious drug trafficking, violent crime, public corruption, civil rights violations, financial fraud, including mortgage fraud, health care fraud, environmental crimes, and a variety of other violations.
Detroit Youth Violence initiative - Detroit One
Detroit One is a law enforcement and community initiative to reduce homicide and violent crime in Detroit.   The name connotes a unified effort by our entire community working together to improve public safety.
Comprehensive Violence Reduction Partnership (CVRP)
The Comprehensive Violence Reduction Partnership is a partnership between law enforcement agencies to address violent crime in Detroit. The efforts include enforcement, prevention and community trust.
Project Safe Neighborhoods (PSN)
The project Safe Neighborhoods (PSN) and Anti-Gang Programs in the Eastern District of Michigan incorporates a successful gun case referral system...
Project Safe Childhood (PSC)
In response to the troubling trend of computer-facilitated sexual exploitation crimes committed against children together with Project Safe Childhood (PSC), the Eastern District of Michigan established a Child Protection Initiative to ensure that we are doing everything we can to protect and take care of our district's children.
Civil Rights
Civil rights enforcement is important to this community so that minority and immigrant groups feel welcome to live and do business here. These groups are essential to a vibrant economy. ....
The Federal law Enforcement Committee (FLEC)
The Federal Law Enforcement Committee is comprised of all of the federal law enforcement agencies operating in the Eastern District of Michigan, as well as state and local partners.  Chaired by the U.S. Attorney, the FLEC meets quarterly to share information and provide training among the partners.
Updated April 14, 2015