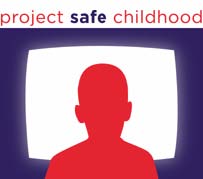 In response to the troubling trend of computer-facilitated sexual exploitation crimes committed against children together with Project Safe Childhood (PSC), the Eastern District of Michigan established a Child Protection Initiative to ensure that we are doing everything we can to protect and take care of our district's children.
Child pornography, human trafficking, interstate transportation of minors for the purpose of engaging in sex and other sorts of predatory activity upon children are all federal offenses targeted by this initiative. The office has successfully charged and convicted a disturbingly high – and increasing number of criminal defendants in the past year who have engaged in acts of criminality that endanger the safety and innocence of our community's most precious asset: our children.
This initiative also includes an Internet and Safety Awareness Program. In 2007 and 2008, our office provided several educational forums to communities within our districts. Our office hosted town hall meetings for parents, teachers, child protection workers, and community leaders on "Child Exploitation, Prevention and Enforcement". These events included a panel of speakers from the Federal Bureau of Investigation, the U.S. Attorney's Office, the County Prosecuting Attorney's Office, and the Child Exploitation and Obscenity Section of the Criminal Division, Department of Justice. The goal was to increase community awareness and educate the public about the dangers facing children from sexual exploitation and abuse facilitated by technology.
In 2008, the US Attorneys' Offices in the Eastern and Western Districts of Michigan along with Several Law enforcement agencies held statewide training for law enforcement investigators, social service agencies and school personnel to educate these entities on this critical threat to youth on the internet.
Emergency Preparedness for Kids & Schools
 As the new school year looms on the horizon, DisasterPrepped.com focuses on helping you prepare your kids and their schools for potential emergencies or disasters.    First, the "Kids & Schools" section highlights many valuable emergency preparedness solutions, including several newly added tools, at www.disasterprepped.com/kids_schools.php .
Second, there are several articles now available at the website addressing this topic:
         "Helping Children Cope with Disaster"   
(  www.disasterprepped.com/children_cope.php  )
         "'Back to School' Emergency Preparedness"  
(  www.disasterprepped.com/back_to_school.php  )
         "Checklist for Emergency Preparedness in Schools"  
( www.disasterprepped.com/schools_checklist.php )
        "Tornado Preparedness Tips for School Administrators"
( www.disasterprepped.com/tornado_schools.php  )
For Information on Project Safe Childhood Please Contact:
| | |
| --- | --- |
| Susan Plochinski | Robert Poikey |
| Paralegal Specialist | Law Enforcement Specialist |
| susan.plochinski@usdoj.gov | robert.poikey@usdoj.gov |
Updated April 14, 2015