Barry R. Grissom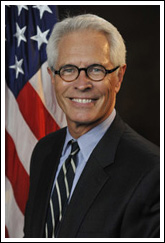 Barry R. Grissom was nominated by President Barack Obama in April 2010 and confirmed by the U.S. Senate in August 2010 to be U.S. Attorney in the District of Kansas.
Mr. Grissom graduated from the University of Kansas in 1977 and the Oklahoma City University School of Law in 1981.
He leads an office of 49 Assistant U.S. Attorneys and 53 support staff working in offices in Wichita, Topeka and Kansas City, Kan. He serves as a member of the U.S. Attorney General's Advisory Committee, which provides advice and counsel to the U.S. Attorney General.
His law enforcement priorities for the U.S. Attorney's office include national security, violent crime, drug trafficking, financial fraud and crimes against children, he said
Updated February 3, 2015