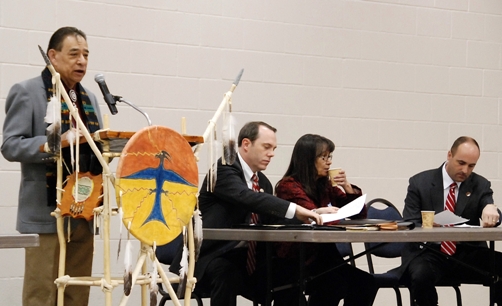 College President David Gipp welcomes participants to UTTC for Tribal Listening Conference
On March 16, 2011, the USAOND held its first Tribal Listening Conference at United Tribes Technical College in Bismarck, North Dakota.  The editorial page of the Bismarck Tribune praised the Conference as "eclips[ing] other out reach efforts" in the recent past and noted that the "discussion, dialog and partnership possibilities were exciting and encouraging" and that the spirit of co-operation and listening evidenced at the Conference "could lead to something big."  "State's Largest Minority has Huge Impact," Bismarck Tribune, March 20, 2011.
The Conference was attended by nearly 150 tribal members, federal, state, and county law enforcement officials, tribal social services, corrections, probation and law enforcement personnel, and members of the tribal, state, and federal judiciary.  The Conference enabled the U.S. Attorney and AUSAs to listen to tribal concerns in a series of breakout sessions, some of which focused on tribe-specific concerns and others which addressed several substantive areas, including:   (1) Domestic Violence in Tribal Communities; (2) Law Enforcement in Indian Country; (3) Offenses Against Children:  Protecting the Future; (4) Strengthening Tribal Courts, and (5) Reentry:  How do Returning Offenders Impact the Community?
Concerns raised in these breakout sessions have been considered in the creation of this Operation Plan.  For example, a common theme at the Listening Conference was a lack of communication between tribes and the USAOND.  Responsive efforts to increase communication can be found in the implementation of the Community Prosecution strategy discussed above and the changes made to implement the coordination requirements found in the Tribal Law and Order Act of 2010 set forth below.  Additionally, several reservation-specific concerns raised at the Tribal Listening Conference are addressed in the tribe-by-tribe addendums that are part of this plan.
The USAOND will make this Tribal Listening Conference an annual event.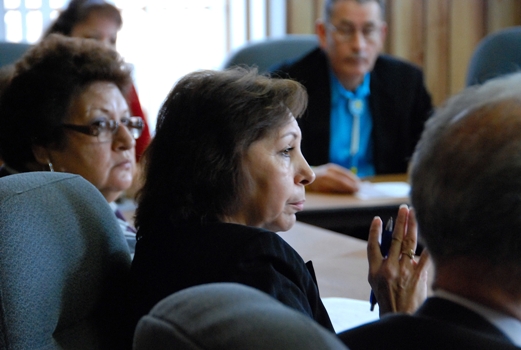 USAOND Tribal Liaison Jan Morley participates in a breakout session at Tribal Listening Conference.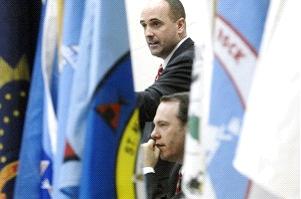 Framed by state and tribal flags, Darren Cruzan, deputy bureau director of the Bureau of Indian Affairs Office of Justice Services, back, speaks as the keynote speaker to law enforcement, judges and lawyers during the Tribal Listening Conference held at United Tribes Technical College in Bismarck on Wednesday. In front is United States Attorney Tim Purdon.
Updated July 27, 2015