In order to foster an ongoing relationship of trust with tribal members, the USAOND will, on selected reservations, begin programs of outreach to tribal youth through the public school system.  These outreach programs will initially take different forms in an effort to identify best practices.
One such effort on the Standing Rock Reservation will include frequent presentations to the students regarding areas of concern such as internet and texting safety, bullying, drug and alcohol abuse, and gangs.  The intent of these presentations is to educate the students about the dangers involved in the identified conduct and to increase the interaction between those involved in the criminal justice system and those who will be the future adults on the reservation.
Another outreach effort on the Spirit Lake Reservation includes the "adoption" of an eighth-grade class at the local school by an AUSA.  As part of this outreach program, it is planned that the AUSA will serve as a role modelto the class.  Students will be provided information on career objectives with job-shadowing opportunities.  Classroom presentations will be made on a variety of subjects, including federal jurisdiction on reservations, sexting, computer safety, and alcohol/drug education.  To accomplish this, federal agents will be brought in to help educate the students.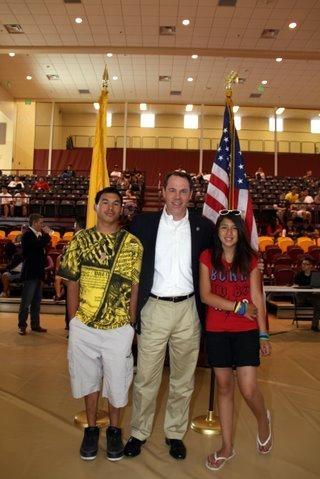 United States Attorney Tim Purdon (center) meets with David Mares of White Shield (left) and Ricky Pourier of New Town (right), at the National Intertribal Youth Summit in Santa Fe, New Mexico, on Monday, July 25, 2011.
Three Affiliated Tribes and Standing Rock Sioux Students Picked to Attend National Intertribal Youth Summit
Four students from the Three Affiliated Tribes and four students from the Standing Rock Sioux Tribe were selected to join 150 young men and women from across the country for the week-long 2011 National Intertribal Youth Summit in Santa Fe, NM, July 24-28, 2011.  The Summit featured administration officials from the White House and the Departments of Justice, Interior, Health and Human Services, and Education.
The students chosen from the Three Affiliated Tribes were Theodore Claymore, David Mares, Ricky Pourier, and Ruby White, and the students chosen from the Standing Rock Sioux Tribe were Amanda Archambault, Aurelia Shippentower, Julian Shippentower, and Payton Tiokasin. During the leadership conference the students had the opportunity to engage with other American Indian and Alaska Native youth through special sessions and target leadership development. The conference also focused on addressing critical youth issues such as healthy relationships and lifestyles, education, substance and alcohol abuse, cultural preservation, community development, and protecting the environment.
The summit provided an opportunity for Obama administration officials to hear directly from youth in Indian Country. The administration and federal agencies have made a commitment to building healthier and safer communities through strengthened coordination and collaboration with tribal governments and partners.
 "Tribal governments face unique challenges, and the importance of getting our youth involved in securing a bright future for themselves, their friends, families, and neighbors can't be overstated," said Attorney General Holder.
After meeting with the North Dakota students in Santa Fe, U.S. Attorney Purdon hailed the opportunities this summit will bring to the governments and communities of the Three Affiliated Tribes and Standing Rock Sioux Tribe.
"Reaching out to Native American youth and working with the tribes to give these young people the tools they need to become the adults they were meant to be is part of our mission," said U.S. Attorney Purdon. "In North Dakota we made outreach to tribal youth a key part of the Anti-Violence Strategy for Tribal Communities we recently implemented because we see the critical importance of empowering the next generation of Native American leaders."
During the week-long session participants had the opportunity to create a Public Service Announcement (PSA) to run in their communities. In a special session called Voices of Youth participants shared thoughts, concerns, and recommendations on ways to address public safety and positively impact the lives of youth across Indian Country—providing a platform for honest dialogue with federal officials. Additional workshops provided tribal youth with knowledge and skills in leadership development and strategies for achieving academic and career success.
Youth were nominated for the 2011 Summit by their tribal youth program coordinators and submitted an application to attend. The Department of Justice's Office on Juvenile Justice and Delinquency Programs (OJJDP) and the Office on Violence Against Women (OVW) made the final participant selections.
Updated July 27, 2015