Nicholas A. Klinefeldt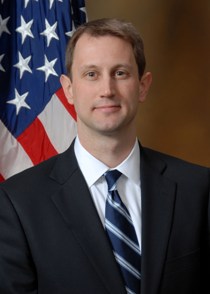 On September 25, 2009, President Barack Obama nominated Nicholas A. Klinefeldt to be the United States Attorney for the Southern District of Iowa. The United States Senate unanimously confirmed Nick's nomination on November 21, 2009, and Nick was sworn into office on November 25, 2009.
Prior to his appointment, Nick practiced civil and criminal law at the Des Moines law firm Ahlers & Cooney, P.C. and practiced complex criminal litigation in Boston, Massachusetts at the law firm LibbyHoopes, P.C. He clerked for U.S. District Court Judge Robert W. Pratt of the Southern District of Iowa and Chief Justice Christopher J. Armstrong and Justice Benjamin Kaplan of the Massachusetts Appeals Court.
Nick received his B.A. with honors and his J.D. with distinction from the University of Iowa.
United States Attorney Listing for the Southern District of Iowa
Territory of Iowa (6/12/1838)
Cyrus S. Jacobs................................................1838
Isaac Van Allen.......................................1838-1840
Charles Weston......................................1840-1843
John G. Deshler......................................1843-1845

 
Southern District of Iowa (12/28/1846)
Edward Johnston....................................1845-1847
Isaac M. Preston.....................................1847-1850
Stephen Whicher....................................1850-1852
Joseph C. Knapp.....................................1852-1860
W.H.F. Gurley........................................1860-1863
Robert H. Gilmore..................................1863-1865
Caleb Baldwin.........................................1865-1867
Milton D. Browning.................................1867-1869
William Fletcher Sapp.............................1869-1873
James T. Lane.........................................1873-1882
Dewitt C. Cram........................................1883-1883
John S. Runnels......................................1882-1885
Daniel O. Finch........................................1885-1889
Lewis Miles.............................................1889-1893
Charles D. Fullen.....................................1893-1898
Lewis Miller............................................1898-1907
Marcellus L. Temple...............................1907-1914
Claude R. Porter......................................1914-1918
Edwin G. Moon........................................1918-1922
Ralph Pringle..........................................1922-1924
Edwin G. Moon................................................1924
Ross R. Mowry.......................................1924-1932
Robert W. Colflesh.................................1932-1934
Edwin G. Moon.......................................1934-1939
Cloid I. Level....................................................1939
John K. Valentine...................................1939-1940

Hugh B. McCoy.................................................1940
Maurice F. Donegan.................................1940-1949
William R. Hart.........................................1949-1953
Roy L. Stephenson....................................1953-1960
Roy W. Meadows......................................1960-1961
Donald A. Wine.........................................1961-1965
Philip T. Riley....................................................1965
Donald M. Statton.....................................1965-1967
Jerry E. Williams...............................................1967
James P. Rielly..........................................1967-1969
Allen L. Donielson.....................................1969-1976
George H. Perry........................................1976-1977
Paul A. Zoss, Jr..................................................1977
James R. Rosenbaum.........................................1977
Roxanne Barton Conlin.............................1977-1981
Kermit B. Anderson............................................1981
Richard C. Turner.....................................1981-1986
Christopher D. Hagen................................1986-1989
Gene W. Shepard......................................1989-1993
Christopher D. Hagen.........................................1993
Don C. Nickerson.....................................1993-2001
Inga Bumbary-Langston....................................2001
Steven M. Colloton..................................2001-2003
Stephen Patrick O'Meara.........................2003-2004
Matthew G. Whitaker..............................2004-2009
Nicholas A. Klinefeldt..........................2009-2015
Updated December 18, 2015