Man Sentenced on Drug and Gun Charges
July 30, 2009
Ronnie Jerrell Mims, 24, of Robertsdale, was sentenced today by United States District Court Judge William H. Steele in federal court for his involvement in an attempted drug rip-off that occurred on October 10, 2008. Court documents in the file reflect that Mims, along with his co-defendants Travis Denell Mitchell and Marcus Rayshan Stallworth attempted to steal 60 pounds of marijuana from an individual who was working as a confidential informant for the Baldwin County Sheriff's Office. The drug deal was supposed to take place in a parking lot on Highway 98 near Grantham Road in Foley. Sheriff's deputies and task force officers were monitoring the deal from vehicles nearby when Mims pulled a gun from his waistband on the informant and grabbed the bag containing the marijuana. The deputies pursued Mims and Mitchell in a black Equinox driven by Stallworth. The sheriff's deputies stopped the Equinox to a residence on Bodenhammer Road, where Mims and Mitchell fled on foot. Mims was caught as he attempted to hide under a van at a residence on Angie Drive. Mitchell was captured in the woods between Lymon Lane and Mills Road. Stallworth, who had been driving the get-away vehicle, also attempted to flee from the vehicle while carrying his two-year-old son. When deputies caught up with him to take him into custody, he used the child as a shield, holding him between his body and the officer's drawn weapon. The officers recovered the marijuana and the firearm Mims used to rob the informant, a Taurus .45 caliber handgun. Mims, Mitchell and Stallworth all had prior felony convictions.
In April of 2009, Mims pleaded guilty to federal charges of conspiracy to possess with intent to distribute marijuana, possession with intent to distribute marijuana, brandishing a firearm during the commission of a drug trafficking felony and prohibited person (convicted felon) in possession of a firearm. Judge Steele imposed a sentence consisting of 37 months imprisonment on the drug charges and the felon in possession count, to be followed by a term of 84 months on the brandishing the firearm count. The statute provides that when a weapon is brandished during the commission of a drug trafficking crime, the sentence is a mandatory consecutive term of 7 years. Mims' total term of imprisonment was 121 months. Upon completion of his jail term, Mims was ordered to be placed on supervised release for 5 years, and Judge Steele further ordered that he undergo drug testing and treatment during his supervision. Judge Steele also ordered that Mims pay mandatory special assessments in the amount of $400.
The case was investigated by the Baldwin County Sheriff's Office, the Bureau of Alcohol, Tobacco, Firearms and Explosives, and the Baldwin County Drug Task Force. The case prosecutor was Assistant United States Attorney Gloria A. Bedwell.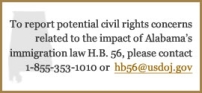 If you have any questions concerning disability discrimination, please call 251.441.5845 and ask for the Disability Discrimination Coordinator, or direct your inquiry in writing to:

U.S. Attorney's Office
Attn: Disability Discrimination Coordinator
63 South Royal Street
Suite, 600
Mobile, AL 36602
Natural Disaster
Fraud Hotline
If you believe you have been a victim of fraud from a person or an organization soliciting relief funds on behalf of storm victims or have knowledge of waste, abuse, or allegations of mismanagement involving disaster relief operations, contact the National Center for Disaster Fraud toll free at:
(866) 720-5721
You can e-mail it to: