Grove Hill Woman Pleads Guilty to Bankruptcy Fraud, False Tax Return - Earned Income Credit Charges
August 18, 2009
Sharon Jemison of Grove Hill, Alabama pled guilty in United States District Court in Mobile, Alabama on August 18, 2009 to two (2) counts of a superseding indictment charging her with bankruptcy fraud and with procuring and aiding in the filing of false Federal income tax returns. Jemison admitted to having procured and aided in the preparation and presentation of her own Federal tax return which misstated the amount of her income from the Miracles of Prayer/World Life Christian Center and from Shekinahs Boutique, falsely claimed dependents, and falsely claimed Earned Income Credit based on that income and those claimed dependents.
Jemison also admitted to a bankruptcy fraud charge in that, from on or about April 20, 2007 to March 19, 2009, she made false statements in relation to the bankruptcy case of Miracles of Prayer Non-Denominational Tabernacle, Inc, Case No. 07-10545, in the United States Bankruptcy Court for the Southern District of Alabama. Jemison admitted that she falsely affirmed that Miracles of Prayer Non-Denominational Tabernacle, Inc. had complied with the Bankruptcy Court's Chapter 11 Operating Order. In fact, Miracles of Prayer Non-Denominational Tabernacle, Inc had failed to close its pre-bankruptcy account at Capstone Bank, in violation of the requirements of that Order of the Bankruptcy Court. Jemison also admitted that she understated the disbursements of the church on monthly reports to the Bankruptcy Court as she listed only the disbursements made from its account at Merchants Bank. She did not report the amounts withdrawn from the church's undisclosed accounts at Capstone Bank.
The case was jointly investigated by agents of the Bureau of Alcohol, Tobacco, Firearms and Explosives of the Department of Justice and the Criminal Investigation Division, Internal Revenue Service. Acting United States Attorney Eugene Seidel stated that the prosecution shows that the Department of Justice understands its duty to work to ensure that the benefits of bankruptcy go only to honest debtors, not those who abuse the system, and that honest taxpayers are not taken advantage of by those who cheat. Reginael McDaniel, Special Agent in Charge of IRS Criminal Investigation, stated that "IRS-CI, together with the rest of law enforcement community, are united in the endeavor to investigate and prosecute those individuals who choose to participate in fraudulent activity. We hope that this plea today will demonstrate law enforcement's commitment to maintaining public confidence in our tax and judicial systems." The case was prosecuted by Assistant U.S. Attorneys Charles Baer and John Cherry on behalf of the United States Attorney's Office for the Southern District of Alabama.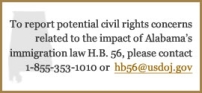 If you have any questions concerning disability discrimination, please call 251.441.5845 and ask for the Disability Discrimination Coordinator, or direct your inquiry in writing to:

U.S. Attorney's Office
Attn: Disability Discrimination Coordinator
63 South Royal Street
Suite, 600
Mobile, AL 36602
Natural Disaster
Fraud Hotline
If you believe you have been a victim of fraud from a person or an organization soliciting relief funds on behalf of storm victims or have knowledge of waste, abuse, or allegations of mismanagement involving disaster relief operations, contact the National Center for Disaster Fraud toll free at:
(866) 720-5721
You can e-mail it to: