Man Sentenced in Drug Case
September 17, 2009
Derek Oneal Williams, 29, of Marion, was sentenced today in federal court for his role in a drug distribution operation to a term of 14 years imprisonment without parole. Judge Kristi K. Dubose pronounced the sentence following a series of hearings that began in early 2009. Williams initially pled guilty in July of 2008 to charges of possession of crack cocaine with intent to distribute and felon in possession of ammunition, in accordance with a plea agreement with the United States Attorney's Office in which he agreed to cooperate with authorities. On January 21, 2009, Williams withdrew from the agreement and entered a guilty plea to the remaining charge in the indictment, conspiracy to possess with intent to distribute cocaine. Before the sentencing hearing that was set for March 6, 2009, the federal public defender representing Williams filed a motion for a psychological examination of Williams, claiming for the first time in the proceedings that Williams was mentally incompetent to proceed with his case. The judge ordered Williams evaluated by the medical staff at a Bureau of Prisons facility for a period of testing and study. Williams was transported to Miami where the doctors found that he was mentally competent, and had engaged in bizarre behaviors calculated to fake a mental illness. At a hearing conducted on September 11, 2009, Judge Dubose took testimony from the Bureau of Prisons doctor and a defense expert, both of whom agreed that Williams was faking symptoms of a mental illness. The judge found that Williams was mentally competent to proceed to with the sentencing hearing and set it for September 17.
At that hearing today, the federal prosecutor offered evidence to show that Williams was a danger to the community and that he had exhibited violent tendencies during his adult life, including years of participation in drug dealing, robberies, drug rip-offs and at least one shooting. Cynthia Steele, a neighbor who lives near Williams' last known address in Marion, testified that Williams threatened to shoot her in the head like he shot her brother. Williams' co-defendant Thaddeus Smith testified at the hearing that Williams had a reputation for violence, and that Smith had seen Williams shoot his own cousin in the leg over a dispute involving drugs and money. Smith testified that Williams told Smith later that Williams paid off his cousin so that Williams would not be prosecuted for that incident.
The judge imposed the 14- year sentence, finding that Williams' criminal history established that he was a threat to continue to commit crimes and that a stiff sentence was necessary to protect the public. Judge Dubose ordered that Williams be supervised for a period of eight years following his release from prison. The judge also ordered that Williams undergo drug treatment while in prison, and that he be housed in an institution where he could learn a trade. The judge ordered that Williams pay $400 in special assessments but did not impose a fine.
The case was investigated by the Bureau of Alcohol, Tobacco, Firearms and Explosives, the Fourth Judicial Drug Task Force, and the Texas Department of Public Safety. Assistant United States Attorney Gloria Bedwell prosecuted the case for the United States Attorney's Office.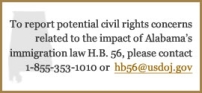 If you have any questions concerning disability discrimination, please call 251.441.5845 and ask for the Disability Discrimination Coordinator, or direct your inquiry in writing to:

U.S. Attorney's Office
Attn: Disability Discrimination Coordinator
63 South Royal Street
Suite, 600
Mobile, AL 36602
Natural Disaster
Fraud Hotline
If you believe you have been a victim of fraud from a person or an organization soliciting relief funds on behalf of storm victims or have knowledge of waste, abuse, or allegations of mismanagement involving disaster relief operations, contact the National Center for Disaster Fraud toll free at:
(866) 720-5721
You can e-mail it to: