Silas Man Convicted of Bankruptcy Fraud Charges
January 26, 2010
William Mark Turner of Silas, Alabama was convicted by a jury in United States District Court in Mobile, Alabama of three (3) counts of bankruptcy fraud.
Turner was found guilty of making false statements in his bankruptcy papers concerning his income for 2002 and 2003, falsely stating that his 2002 income was $36,480, when it was really $67,894, and falsely stating that his 2003 income was $34,880, when it was really $84,399. He also was convicted of making false statements concerning his current income at the time he filed bankruptcy. That false statement concealed more than $50,000 from the Chapter 13 Bankruptcy Trustee. Turner should have been required to pay the approximately $50,000 to the Chapter 13 Trustee to be repaid to Turner's creditors. . The statutory maximum penalty for the alleged violations is five years imprisonment, plus a fine of not more than $250,000 for each count. The Court set sentencing for April, 2010. Turner was remanded into custody pending sentencing.
The case was investigated by agents of the Mobile office of the United States Secret Service. The case was prosecuted by Assistant U.S. Attorneys John Cherry and Charles Baer on behalf of the United States Attorney's Office for the Southern District of Alabama.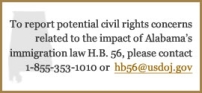 If you have any questions concerning disability discrimination, please call 251.441.5845 and ask for the Disability Discrimination Coordinator, or direct your inquiry in writing to:

U.S. Attorney's Office
Attn: Disability Discrimination Coordinator
63 South Royal Street
Suite, 600
Mobile, AL 36602
Natural Disaster
Fraud Hotline
If you believe you have been a victim of fraud from a person or an organization soliciting relief funds on behalf of storm victims or have knowledge of waste, abuse, or allegations of mismanagement involving disaster relief operations, contact the National Center for Disaster Fraud toll free at:
(866) 720-5721
You can e-mail it to: