Jesse Leroy Butler Sentenced to Imprisonment for 120 Months Due to Involvement in Cocaine Consipracy - Defendant Pleaded Guilty in November of Last Year
March 30, 2010
Jesse Leroy Butler, age 31, of Washington, D.C. was sentenced today after his guilty plea to Conspiracy to Possess with Intent to Distribute Cocaine. Dixon was sentenced to be imprisoned for a total of 120 months as a result of the drug offense, to be followed by a five year term of supervised release.
Court documents filed in conjunction with Butler's plea agreement show that in July 2009, Butler and another individual named Jose Torres arranged for the pick up of approximately 10 kilograms of powder cocaine in Houston, Texas and the delivery of that cocaine to the Washington, D.C. area. On July 14, 2009, during the return trip and while traveling through the Southern District of Alabama, Torres was stopped by an Alabama State Trooper on Interstate 65 in Mobile County, Alabama for a traffic violation. During the course of the stop, the troopers obtained consent to search Torres' vehicle and discovered the 10 kilograms of powder cocaine. The discovery of the cocaine and Torres' cooperation ultimately led to Butler's arrest.
Agents for the Drug Enforcement Administration initiated the federal investigation against Butler. Assistant United States Attorneys Daryl Atchison and Deborah Griffin handled the prosecution of the case on behalf of the United States.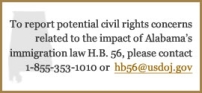 If you have any questions concerning disability discrimination, please call 251.441.5845 and ask for the Disability Discrimination Coordinator, or direct your inquiry in writing to:

U.S. Attorney's Office
Attn: Disability Discrimination Coordinator
63 South Royal Street
Suite, 600
Mobile, AL 36602
Natural Disaster
Fraud Hotline
If you believe you have been a victim of fraud from a person or an organization soliciting relief funds on behalf of storm victims or have knowledge of waste, abuse, or allegations of mismanagement involving disaster relief operations, contact the National Center for Disaster Fraud toll free at:
(866) 720-5721
You can e-mail it to: