Southern District of Alabama Leads the Nation in Returning Forfeited Assets to Law Enforcement for the First Quarter of the Fiscal Year
May 18, 2010
United States Attorney Kenyen R. Brown announced today that $439,000 in forfeited assets were returned to South Alabama law enforcement agencies in the first quarter of the 2010 fiscal year, leading the nation among similarly-sized U.S. Attorney's Offices. Almost all of the funds, which were distributed through the Justice Department's Asset Forfeiture program, were shared with state and local law enforcement agencies which participated in investigations with forfeitures.
"Asset forfeiture is a law enforcement tool that separates criminals from the fruits of their crimes," Mr. Brown said. "It's pay-as-you-go for convicted criminals, who end up funding their own investigations when their forfeited assets are returned to local law enforcement agencies upon conviction. Everybody wins."
The $439,000 which the Southern District of Alabama shared with law enforcement agencies led the nation among 23 similarly-sized U.S. Attorney's offices in the first quarter of fiscal year 2010. By comparison, the Middle District of North Carolina was second with $355,767.00 in assets shared, followed by the District of Vermont with $349,758.00. The $439,000 shared most recently in the Southern District of Alabama was a significant increase over the $363,000.00 shared last quarter, and it compares favorably with the $596,000.00 annual total for fiscal year 2009.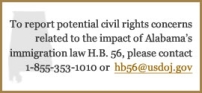 If you have any questions concerning disability discrimination, please call 251.441.5845 and ask for the Disability Discrimination Coordinator, or direct your inquiry in writing to:

U.S. Attorney's Office
Attn: Disability Discrimination Coordinator
63 South Royal Street
Suite, 600
Mobile, AL 36602
Natural Disaster
Fraud Hotline
If you believe you have been a victim of fraud from a person or an organization soliciting relief funds on behalf of storm victims or have knowledge of waste, abuse, or allegations of mismanagement involving disaster relief operations, contact the National Center for Disaster Fraud toll free at:
(866) 720-5721
You can e-mail it to: