Repeat Drug Offender Sentenced to Life
May 18, 2010
Scottie Ladon Dixon, 38, of Atmore, Alabama, was sentenced to life without parole in federal court today because of the amount of crack cocaine he sold combined with his prior history of drug convictions. Court records show that Dixon sold two "cookies" of crack cocaine for $1,000 each to a confidential informant working in connection with the Drug Enforcement Administration's High Intensity Drug Trafficking Area (HIDTA) task force. Dixon bragged about the good quality of his crack cocaine. A few days later, federal agents executed a search warrant at Dixon's residence in Atmore. As the officers announced their presence and the fact of the search warrant, Dixon successfully flushed a quantity of crack cocaine down the toilet. When the agents finally broke down the door, Dixon was found standing in the bathroom over the toilet, at the end of a trail of cocaine powder leading from the kitchen. Dixon had $1,063 in cash when he was arrested.
After he was advised of his constitutional rights, Dixon admitted that he had distributed approximately 6.2 kilograms of crack cocaine while he was under supervision from his first federal crack cocaine conviction. A sentence of 90 months had been imposted on October 17, 1997. He was released from federal prison in September of 2004. Dixon had also been convicted of possession of a controlled substance in the state circuit court in Atmore in 1995.
Chief Judge William H. Steele imposed the life sentence, which also included a mandatory term of supervised release of 10 years. Judge Steele also revoked the supervised release term from the previous conviction.
In addition to the Drug Enforcement Administration and HIDTA, the Baldwin County Sheriff's Office participated in the investigation. It was prosecuted by Assistant United States Attorney Gloria A. Bedwell.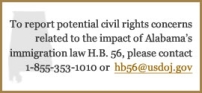 If you have any questions concerning disability discrimination, please call 251.441.5845 and ask for the Disability Discrimination Coordinator, or direct your inquiry in writing to:

U.S. Attorney's Office
Attn: Disability Discrimination Coordinator
63 South Royal Street
Suite, 600
Mobile, AL 36602
Natural Disaster
Fraud Hotline
If you believe you have been a victim of fraud from a person or an organization soliciting relief funds on behalf of storm victims or have knowledge of waste, abuse, or allegations of mismanagement involving disaster relief operations, contact the National Center for Disaster Fraud toll free at:
(866) 720-5721
You can e-mail it to: