Grand Bay Couple, St. Elmo Man Arraigned In Identity Theft, False Tax Return Preparation Scheme
January 11, 2012
United States Attorney Kenyen Brown announces that Gerrode Smith of Grand Bay, Alabama was arraigned before the United States District Court for the Southern District of Alabama in Mobile, Alabama on the Grand Jury's twenty-five (25) count indictment charging him with identity theft, conspiracy, preparing and filing false tax returns, and wire fraud. Pamela Fields Smith, of Grand Bay, Gerrode Smith's wife, and Artemius Smith, of Saint Elmo, Alabama, Gerrode Smith's cousin, were arraigned on the Grand Jury's Federal tax conspiracy charges.
The charges allege the filing of false tax returns through Smith Tax Service, jointly owned by Gerrode and Artemius Smith. The Smiths prepared and electronically filed tax returns which claimed the First Time Home Buyer's Credit where the named taxpayer had not purchased a home in the year claimed, and tax returns which fraudulently claimed the Earned Income Credit and other credits. Gerrode Smith also filed tax returns using the identity of persons who had not authorized him to file tax returns for them and who did not know he was using their identities.
The statutory maximum penalty for the alleged violations is thirty years imprisonment, plus a fine of not more than $250,000.
As in all criminal cases, an Indictment returned by a grand jury is only a charge and the Defendant is presumed innocent.
The case was investigated by agents of the Mobile office of Criminal Investigation, Internal Revenue Service. United States Attorney Kenyen R. Brown stated that the prosecution shows that the Department of Justice understands its duty to work to ensure that honest taxpayers are not taken advantage of, and to protect taxpayers from those who claim to be bona fide tax return preparers, but in reality prepare and file fraudulent returns. IRS Special Agent in Charge Rodney E. Clarke stated: "As we approach the 2012 tax filing season, taxpayers need to be cautious about selecting a return preparer because it is the taxpayers that are ultimately responsible for paying back any fraudulent refunds, along with interest and penalties. Additionally, the IRS is deeply concerned about those individuals who may have been the victims of income tax refund-related identity theft. Identifying, investigating and vigorously prosecuting those individuals involved in these tax related identity theft schemes remains a top priority for IRS Criminal Investigation. Anyone who believes that they may have been the victim of tax refund-related identity theft should contact the IRS Identity Protection Specialty Unit at 1-800-908-4490."
The case will be prosecuted by Assistant U.S. Attorney Charles Baer of the United States Attorney's Office for the Southern District of Alabama.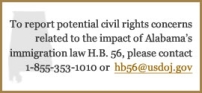 If you have any questions concerning disability discrimination, please call 251.441.5845 and ask for the Disability Discrimination Coordinator, or direct your inquiry in writing to:

U.S. Attorney's Office
Attn: Disability Discrimination Coordinator
63 South Royal Street
Suite, 600
Mobile, AL 36602
Natural Disaster
Fraud Hotline
If you believe you have been a victim of fraud from a person or an organization soliciting relief funds on behalf of storm victims or have knowledge of waste, abuse, or allegations of mismanagement involving disaster relief operations, contact the National Center for Disaster Fraud toll free at:
(866) 720-5721
You can e-mail it to: