Internet Drug Dealer Sentenced In Federal Court
January 23, 2012
MOBILE, Ala. -William Hyun Chang Oh, 34 of Bellevue, Washington, was sentenced today in federal court for his participation in an internet-based drug distribution ring. Oh received 500 grams of MDMA powder and approximately 2,100 MDMA tablets in the mail, addressed to his apartment in Mobile in a false name. MDMA is a Schedule I controlled substance, commonly known as "Ecstasy." Oh was confronted by law enforcement officers when the parcel was delivered to him in April of 2011. Oh ordered the drugs through a connection over the internet. He entered a guilty plea to the charges of possession with intent to distribute a controlled substance, and smuggling of merchandise into the United States from a foreign country, in July of 2011. Sentence was imposed today by United States District Court Judge William H. Steele.
Judge Steele ordered that Oh serve 36 months imprisonment on each of the charges, but ran the sentences concurrent with each other. Oh will also serve a three-year term of supervised release after he serves his prison sentence, and he was ordered to pay special mandatory assessments totaling $200. No fine was imposed.
This case was investigated by the Mobile Police Department, the United States Postal Inspectors and the Department of Homeland Security Investigations. It was prosecuted by Assistant United States Attorney Gloria Bedwell.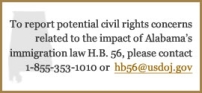 If you have any questions concerning disability discrimination, please call 251.441.5845 and ask for the Disability Discrimination Coordinator, or direct your inquiry in writing to:

U.S. Attorney's Office
Attn: Disability Discrimination Coordinator
63 South Royal Street
Suite, 600
Mobile, AL 36602
Natural Disaster
Fraud Hotline
If you believe you have been a victim of fraud from a person or an organization soliciting relief funds on behalf of storm victims or have knowledge of waste, abuse, or allegations of mismanagement involving disaster relief operations, contact the National Center for Disaster Fraud toll free at:
(866) 720-5721
You can e-mail it to: