United States Attorney's Office To Conduct Third Civil Rights Summit
January 31, 2012
United States Attorney Kenyen R. Brown is pleased to announce the third of several "summits" to address civil rights issues that are of interest to our community. The third summit, Hate Crimes, will be held on Monday, February 6, from 9:00 a.m. to 5:00 p.m. at the History Museum of Mobile, Hearin-Chandler Auditorium, located at 111 South Royal Street in downtown Mobile. Future civil rights summits will span such topics as equal employment opportunity, fairness in lending and credit, and voting rights.
The February 6 summit will cover a wide range of timely topics concerning crimes that are motivated by animosity toward particular groups of people. The presentations will address the nature and impact of these crimes on people of particular racial, gender, religious, and cultural groups, and the problem of child bullying.
The keynote speaker will be Thomas E. Perez, the Assistant Attorney General of the U.S. Department of Justice's Civil Rights Division in Washington, D.C. Assistant Attorney General Perez will lecture and answer questions about the range of hate crimes confronting communities across the nation, as well as federal law enforcement efforts to seek justice for the victims of these crimes.
Other distinguished presenters will include Mobile County District Attorney Ashley Rich, Mark Potok of the Southern Poverty Law Center in Montgomery, Tom Battles with the Department of Justice's Community Relations Service, and representatives of the Anti-Defamation League and the FBI.
Attendance is free, and all professionals; education, medical, and social service personnel; attorneys; advocates; faith-based leaders; clergy; and other interested persons are invited to attend. Because space is limited, please email your reservation request to summit.reservation@usdoj.gov in advance. A request has been made for attendees to receive continuing education credit. Any attendee needing the assistance of a sign language interpreter is asked to make such a request when emailing the reservation.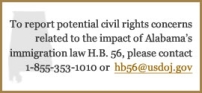 If you have any questions concerning disability discrimination, please call 251.441.5845 and ask for the Disability Discrimination Coordinator, or direct your inquiry in writing to:

U.S. Attorney's Office
Attn: Disability Discrimination Coordinator
63 South Royal Street
Suite, 600
Mobile, AL 36602
Natural Disaster
Fraud Hotline
If you believe you have been a victim of fraud from a person or an organization soliciting relief funds on behalf of storm victims or have knowledge of waste, abuse, or allegations of mismanagement involving disaster relief operations, contact the National Center for Disaster Fraud toll free at:
(866) 720-5721
You can e-mail it to: