Mobile County Man Sentenced To 100 Months Incarceration For Illegal Possession Of A Firearm
February 15, 2012
The United States Attorney, Kenyen Brown announces that Gerald D. Hall, 40 years old, a Wilmer, Alabama resident was sentenced today. The Honorable Callie Granade sentenced Hall to 110 months incarceration followed by three years of supervised release and a monetary assessment of $10 for possessing a firearm after being convicted of a felony offense - Burglary 3rd in 1992. Hall was indicted in June 2011 and later entered a guilty plea to the offense on August 17, 2011.
Special Agents of the Bureau of Alcohol Tobacco Firearms and Explosives investigated the case and brought it to the U.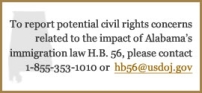 If you have any questions concerning disability discrimination, please call 251.441.5845 and ask for the Disability Discrimination Coordinator, or direct your inquiry in writing to:

U.S. Attorney's Office
Attn: Disability Discrimination Coordinator
63 South Royal Street
Suite, 600
Mobile, AL 36602
Natural Disaster
Fraud Hotline
If you believe you have been a victim of fraud from a person or an organization soliciting relief funds on behalf of storm victims or have knowledge of waste, abuse, or allegations of mismanagement involving disaster relief operations, contact the National Center for Disaster Fraud toll free at:
(866) 720-5721
You can e-mail it to:

S. Attorney's Office for prosecution. The prosecutor assigned to the case is Assistant United States Attorney, Gina S. Vann.