Former Citronelle Police Officer Sentenced To Eighteen Months For Possession Of Stolen Firearm
March 1, 2012
United States Attorney Kenyen Brown announces, that United States District Court Judge Kristi Dubose sentenced former Citronelle Police Sergeant Bill Newburn to eighteen months imprisonment on two charges of possession of a stolen firearm. During the November 2011 trial, witnesses to one of the charges testified that Newburn took a Llama 9mm pistol on September 29, 2007, from the son of the firearm's owner. Citronelle Municipal Court Judge John Williams ordered that the firearm be returned to the father when he produced a pistol permit. Testimony showed despite the owners efforts to recover the firearm, it was never returned to him. Over 3 ½ years later the firearm was found in the front seat of Newburn's patrol car during an inventory of the vehicle.
Witnesses on the other charge testified that Newburn took a .22 caliber derringer firearm from a female on whom he conducted a traffic stop on March 11, 2001. The evidence showed that Newburn took the firearm, but no charges were filed, and a case was never opened. The actual owner of the pistol testified that he tried numerous times to obtain the return of his firearm. Newburn falsely told the owner that his firearm had been destroyed, while at the same time telling a fellow officer that the firearm had been condemned for his use as a back-up weapon by Citronelle Municipal Judge John Williams. Judge Williams testified that in his fourteen years on the bench, he has never condemned a firearm to an officer for this purpose. Testimony and evidence showed that it was only after new Citronelle Police Chief Shane Stringer confronted Newburn about the owner's complaint concerning the return of his firearm, that Newburn turned the firearm in to the Department.
This case was investigated by the Bureau of Alcohol, Tobacco, Firearms and Explosives, in cooperation with the Citronelle Police Department and Task Force Officer Deputy Lorne Watts of the Mobile County Sheriff's Office. The case was prosecuted by Assistant United States Attorneys Michele O'Brien and Vicki Davis.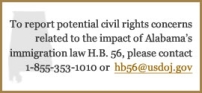 If you have any questions concerning disability discrimination, please call 251.441.5845 and ask for the Disability Discrimination Coordinator, or direct your inquiry in writing to:

U.S. Attorney's Office
Attn: Disability Discrimination Coordinator
63 South Royal Street
Suite, 600
Mobile, AL 36602
Natural Disaster
Fraud Hotline
If you believe you have been a victim of fraud from a person or an organization soliciting relief funds on behalf of storm victims or have knowledge of waste, abuse, or allegations of mismanagement involving disaster relief operations, contact the National Center for Disaster Fraud toll free at:
(866) 720-5721
You can e-mail it to: