Defendant Sentenced For Submitting Fraudulent Application For 100 Ton Vessel License
March 7, 2012
United States Attorney Kenyen R. Brown announces that Brian Blake Pettis of Satsuma, Alabama, has been sentenced to two years imprisonment on a charge of Aggravated Identity Theft. Presiding District Judge William H. Steele imposed the sentence today. Pettis had earlier pled guilty to the charge, admitting that he submitted a form containing fraudulent information and a fraudulent signature to the United States Coast Guard (USCG) to obtain a 100 ton vessel license.
On November 3, 2010, the USCG received information that Pettis had submitted fraudulent documents and unlawfully obtained a 100 ton vessel license. The owner of a diving company identified a document with his forged signature and fraudulent sea service credit claimed in an application packet submitted by Pettis to the USCG.
Pettis falsely claimed in his application 33 months of sea service on board a vessel of his former employer in an attempt to receive his 100 ton vessel license.
To obtain a 100 ton vessel license, an applicant must complete 180 days underway on a vessel 51 GRT or above, or 360 days underway on a vessel over 33.4 GRT, as well as a total of 720 days of total underway service. Pettis' actual service time was deficient by approximately 309 days for a vessel over 33.4 GRT.
This case was investigated by the Coast Guard Investigative Service. The case was prosecuted by Assistant United States Attorney Michael Anderson of the United States Attorney's Office for the Southern District of Alabama.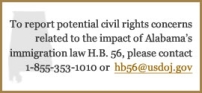 If you have any questions concerning disability discrimination, please call 251.441.5845 and ask for the Disability Discrimination Coordinator, or direct your inquiry in writing to:

U.S. Attorney's Office
Attn: Disability Discrimination Coordinator
63 South Royal Street
Suite, 600
Mobile, AL 36602
Natural Disaster
Fraud Hotline
If you believe you have been a victim of fraud from a person or an organization soliciting relief funds on behalf of storm victims or have knowledge of waste, abuse, or allegations of mismanagement involving disaster relief operations, contact the National Center for Disaster Fraud toll free at:
(866) 720-5721
You can e-mail it to: