Methamphetamine Ring Sentenced In Federal Court
March 9, 2012
United States Attorney Kenyen Brown announced that members of a methamphetamine manufacturing ring were sentenced today in federal court. Court documents showed that Carey Lemley Tidmore, Jr., 42, of Greensboro, was the ring leader, and that hundreds of batches of methamphetamine were manufactured in a shed on his property. Tidmore used pseudoephedrine pills and other supplies that were provided by other members of the group. United States District Court Judge Kristi K. Dubose sentenced Tidmore to 14 years imprisonment, to be followed by a five-year term of supervised release. During his supervision, he will undergo drug testing and treatment.
Also sentenced were Michael Eugene Snipes, 39, of Greensboro, Gilbert Travis Westbrook, 27 of Valley Grande, Tania Tucker, 34, of Greensboro, Thad Moseley, 31, of Demopolis, and Stacey Deeree King, 24, of Linden. Judge Dubose ordered Snipes to serve 5 years imprisonment, Westbrook to serve 18 months imprisonment, Tucker to serve a year and a day imprisonment, Moseley to serve 18 months imprisonment, and King to serve 30 months imprisonment. All will serve the five-year term of supervised release following their prison time.
The case was investigated by the Fourth Judicial Circuit Task Force, the Hale County Sheriff's Office, the Bibb County Sheriff's Office and the Greensboro Police Department. It was prosecuted by Assistant United States Attorney Gloria Bedwell.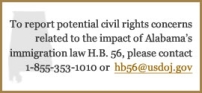 If you have any questions concerning disability discrimination, please call 251.441.5845 and ask for the Disability Discrimination Coordinator, or direct your inquiry in writing to:

U.S. Attorney's Office
Attn: Disability Discrimination Coordinator
63 South Royal Street
Suite, 600
Mobile, AL 36602
Natural Disaster
Fraud Hotline
If you believe you have been a victim of fraud from a person or an organization soliciting relief funds on behalf of storm victims or have knowledge of waste, abuse, or allegations of mismanagement involving disaster relief operations, contact the National Center for Disaster Fraud toll free at:
(866) 720-5721
You can e-mail it to: