Business Owner Sentenced On Gun Violation
March 14, 2012
United States Attorney Kenyen Brown announces that Ericka Sanchez, one of the owners of Sanchez Auto Sales, was sentenced today in federal court to 2 years in prison for providing a firearm to an illegal alien. Sanchez entered a guilty plea to the charges in January of 2012. Sanchez was originally charged with her husband and co-defendant Jose Sanchez with violations including structuring of financial transactions to avoid a federal reporting requirement. Evidence from the sentencing hearing established that more than $300,000 in cash deposits were structured into business and personal bank accounts over a 12-month period during the investigation. United States Secret Service Special Agent Joseph Lea testified that $8,000 and 5 of the firearms were recovered from a safe in the Sanchezes' master bedroom at their residence in Pensacola. The additional amount of cash, approximately $134,000, was seized in a white plastic bag from a closet in the residence when search warrants were executed there and at the business locations for Sanchez Auto Sales during February of 2011.
Additional evidence from the sentencing hearing established that Ericka Sanchez purchased all the guns in her name. Jose Sanchez, her husband, is an illegal alien. When she entered the guilty plea, Ericka Sanchez admitted that she provided the guns in question to her husband. United States District Court Judge William H. Steele imposed the two-year sentence, which will be followed by a three year term of supervised release. Judge Steele also imposed the mandatory special assessment of $100, but did not impose a fine.
The case was investigated by the United States Secret Service, the Department of Homeland Security Investigations, the Bureau of Alcohol, Tobacco, Firearms, and Explosives, the Escambia County (Florida) Sheriff's Office, the Pensacola Police Department, the Baldwin County Sheriff's Office, the Foley Police Department, and the Drug Enforcement Administration. It was prosecuted by Assistant United States Attorney Gloria Bedwell.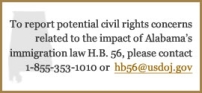 If you have any questions concerning disability discrimination, please call 251.441.5845 and ask for the Disability Discrimination Coordinator, or direct your inquiry in writing to:

U.S. Attorney's Office
Attn: Disability Discrimination Coordinator
63 South Royal Street
Suite, 600
Mobile, AL 36602
Natural Disaster
Fraud Hotline
If you believe you have been a victim of fraud from a person or an organization soliciting relief funds on behalf of storm victims or have knowledge of waste, abuse, or allegations of mismanagement involving disaster relief operations, contact the National Center for Disaster Fraud toll free at:
(866) 720-5721
You can e-mail it to: