Methamphetamine Ring Sentenced In Federal Court
March 30, 2012
United States Attorney Kenyen Brown announced that the last two members of a methamphetamine manufacturing ring which operated in Hale County from 2009 through 2010 were sentenced today in federal court. Court documents showed that the ring leader, Carey Lemley Tidmore, Jr., 42, of Greensboro, was sentenced earlier this months to 14 years in federal prison. Sentenced today were Daniel Griffin Thomas, 26, of Bessemer, and Alan Sims Cole, 46, of Greensboro, both of whom entered guilty pleas to the charge of conspiracy to manufacture methamphetamine during November of 2011.
Judge Kristi Dubose imposed a sentence of 10 years in Thomas' case, which is to be followed by a five year term of supervised release. Judge Dubose ordered that Cole serve three months in prison, followed by a three year term of supervised release. She ordered that both Thomas and Cole undergo drug abuse treatment as a condition of supervision. No fine was imposed in either case, but the judge ordered that both defendants must pay the mandatory special assessment of $100 each.
The case was investigated by the Fourth Judicial Circuit Task Force, the Hale County Sheriff's Office, the Bibb County Sheriff's Office and the Greensboro Police Department. It was prosecuted by Assistant United States Attorney Gloria Bedwell.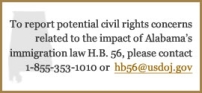 If you have any questions concerning disability discrimination, please call 251.441.5845 and ask for the Disability Discrimination Coordinator, or direct your inquiry in writing to:

U.S. Attorney's Office
Attn: Disability Discrimination Coordinator
63 South Royal Street
Suite, 600
Mobile, AL 36602
Natural Disaster
Fraud Hotline
If you believe you have been a victim of fraud from a person or an organization soliciting relief funds on behalf of storm victims or have knowledge of waste, abuse, or allegations of mismanagement involving disaster relief operations, contact the National Center for Disaster Fraud toll free at:
(866) 720-5721
You can e-mail it to: