Sentencing In BP Fraud Case
April 12, 2012
United States Attorney Kenyen R. Brown announced today that William Kevin Clark, a Florida resident who was indicted by the October 2011 Federal Grand Jury, was sentenced by Federal District Court Judge DuBose to 15 months imprisonment, to be followed by 5 years supervision. He was also ordered to pay restitution in the amount of $148,452.02 to Regions Bank. Clark had previously entered a guilty plea to defrauding Regions Bank.
Clark admitted defrauding the bank and receiving monies to which he was not entitled.
The case arose from an investigation by the United States Secret Service and was prosecuted by Assistant United States Attorney Deborah Griffin.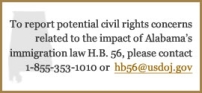 If you have any questions concerning disability discrimination, please call 251.441.5845 and ask for the Disability Discrimination Coordinator, or direct your inquiry in writing to:

U.S. Attorney's Office
Attn: Disability Discrimination Coordinator
63 South Royal Street
Suite, 600
Mobile, AL 36602
Natural Disaster
Fraud Hotline
If you believe you have been a victim of fraud from a person or an organization soliciting relief funds on behalf of storm victims or have knowledge of waste, abuse, or allegations of mismanagement involving disaster relief operations, contact the National Center for Disaster Fraud toll free at:
(866) 720-5721
You can e-mail it to: