Brewton Man Pleads Guilty To False Statement In Loan Application
April 13, 2012
United States Attorney Kenyen Brown announces that Brewton, Alabama resident Jack Witherspoon Hines pleaded guilty on April 11, 2012, to a one-count federal information, charging him with making a false statement pertaining to a bank loan, in violation of Title 18, United States Code, Section 1001.
As part of his plea, Hines admitted that he pledged shares of stock as collateral for a loan from the Bank of Brewton when he had already pledged the same stock for a loan from another bank, which maintained the original stock certificate. In so doing, Hines falsely represented that the stock had been pledged as collateral only for the Bank of Brewton loan.
Hines faces a statutory maximum penalty of five years imprisonment, plus a fine of $250,000.00. His sentencing is set for July 19, 2012, at 9:00 a.m., in frot of United States District Court Judge Kristi Dubose.
The Federal Deposit Insurance Corporation investigated this case. The prosecution is being handled by Assistant U.S. Attorney Gregory Bordenkircher on behalf of the United States Attorney's Office for the Southern District of Alabama.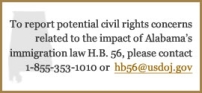 If you have any questions concerning disability discrimination, please call 251.441.5845 and ask for the Disability Discrimination Coordinator, or direct your inquiry in writing to:

U.S. Attorney's Office
Attn: Disability Discrimination Coordinator
63 South Royal Street
Suite, 600
Mobile, AL 36602
Natural Disaster
Fraud Hotline
If you believe you have been a victim of fraud from a person or an organization soliciting relief funds on behalf of storm victims or have knowledge of waste, abuse, or allegations of mismanagement involving disaster relief operations, contact the National Center for Disaster Fraud toll free at:
(866) 720-5721
You can e-mail it to: