Jury Finds Defendant Guilty On Firearm Charges
June 1, 2012
United States Attorney Kenyen R. Brown announced today that Douglas Lee Guin of Wilmer, Alabama, and George County, Mississippi, was found guilty by a jury on charges of being a prohibited person in possession of firearms. Guin was prohibited from firearm possession, both because he had previously been convicted of a misdemeanor crime of domestic violence in 2009, and he was an unlawful user of a controlled substance, in this case marijuana. On March 19, 2011, two shotguns were recovered from the Defendant's residence, following a report to the Mobile County Sheriff's Office of shots fired outside the residence, and a possible hostage situation. The Mobile County SWAT team was dispatched and eventually made entry into the residence which is located behind Guin's mother's convenience store on Highway 98.
Possession of a firearm or ammunition by a prohibited person under these circumstances is a violation of Title 18, United States Code Sections 922(g)(9) and (g)(3). The statutory maximum penalty provided by law for the charges is 10 years imprisonment.
This case was investigated by Special Agent Mark Sloke with the Bureau of Alcohol, Tobacco, Firearms and Explosives, with assistance from the Mobile County Sheriff's Office. The case was prosecuted by the United States Attorney's Office for the Southern District of Alabama.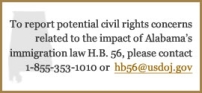 If you have any questions concerning disability discrimination, please call 251.441.5845 and ask for the Disability Discrimination Coordinator, or direct your inquiry in writing to:

U.S. Attorney's Office
Attn: Disability Discrimination Coordinator
63 South Royal Street
Suite, 600
Mobile, AL 36602
Natural Disaster
Fraud Hotline
If you believe you have been a victim of fraud from a person or an organization soliciting relief funds on behalf of storm victims or have knowledge of waste, abuse, or allegations of mismanagement involving disaster relief operations, contact the National Center for Disaster Fraud toll free at:
(866) 720-5721
You can e-mail it to: