Convicted Felons Sentenced For Possession Of Firearms
June 29, 2012
MOBILE, Ala. - Geoffery Wade Quinley, 45, of Foley, and James Allen Wade, 36, of Bon Secour, were sentenced in federal court this week for their possession of firearms after having been convicted of felonies. Court documents establish that Wade and Quinley were arrested in Clark County when law enforcement officers found them shining spotlights on a food plot at night in January of 2011. One of them fired a shot at a deer, and a conservation enforcement officer waited by their truck for them to return. He identified himself as Wade and Quinley approached their truck and Quinley was found to be in possession of the gun. Wade's gun was in the truck, and in a subsequent search of the camper trailer where they were staying, sheriff's deputies found methamphetamine and drug paraphernalia.
At that time, Quinley on federal supervised release for his prior federal conviction for conspiracy to manufacture methamphetamine. Both admitted possession of the guns and use of methamphetamine. Both entered guilty pleas in February of 2012. Chief Judge William H. Steele imposed sentence in Wade's case on June 27, ordering him imprisoned for 18 months. The judge ordered that Wade serve a three-year term of supervised release following his incarceration. Quinley was sentenced on June 28 to 46 months imprisonment, to be followed by a supervised release term of three years. No fine was imposed in either case. Each defendant was ordered to pay the $100 mandatory special assessment.
This case was investigated by the Alabama Department of Conservation, the Clark County Sheriff's Office, and the Bureau of Alcohol, Tobacco, Firearms and Explosives. It was prosecuted by Gloria Bedwell in the United States Attorney's Office in Mobile.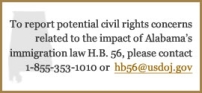 If you have any questions concerning disability discrimination, please call 251.441.5845 and ask for the Disability Discrimination Coordinator, or direct your inquiry in writing to:

U.S. Attorney's Office
Attn: Disability Discrimination Coordinator
63 South Royal Street
Suite, 600
Mobile, AL 36602
Natural Disaster
Fraud Hotline
If you believe you have been a victim of fraud from a person or an organization soliciting relief funds on behalf of storm victims or have knowledge of waste, abuse, or allegations of mismanagement involving disaster relief operations, contact the National Center for Disaster Fraud toll free at:
(866) 720-5721
You can e-mail it to: