Settlement of US v. Dragon City I, Inc., Daphne, AL
July 3, 2012
"On a spring morning in April, 2012, Mamie Louise Everett, who is blind, was not welcomed into a Daphne restaurant as a typical customer. She was refused dining service when accompanied by her service dog. Even after explaining to the hostess that she was blind and that her dog was not a pet but her service dog, she was told to leave the premises," said Kenyen R. Brown, U. S. Attorney for the Southern District of Alabama. Following a visit by the city police, the restaurant eventually allowed her entrance but restricted where she could dine.
The restaurant known as Dragon City I, Inc. and its owner Ms. Yi Xiang Ou have entered into a Settlement Agreement with the United States following an investigation conducted by the U. S. Attorney's Office and the U. S. Department of Justice. The investigation concluded that Ms. Everett had been denied her civil rights under the Americans with Disabilities Act when she was initially refused service and when, unlike other customers, she was restricted in her dining experience.
"Although some restaurant owners or employees mistakenly believe the Health Department Laws and Regulations prohibit service animals from accompanying their owners, that belief is clearly incorrect and they are sadly mistaken, " continued U. S. Attorney Brown. "The Health Code in Alabama exempts service animals from the ban on customers bringing animals into a restaurant. More importantly, as a matter of protected civil rights the Americans with Disabilities Act clearly provides that a Title III public accommodation, such as a restaurant, may not discriminate against persons with disabilities who rely on service animals to assist them. It is the restaurant owner's responsibility to properly train staff in this regard to prevent such discrimination, embarrassment and humiliation."
Ms. Everett was paid $2,500 in civil damages by the restaurant, and a civil penalty of $2,500 was paid to the United States in order to partially vindicate the public interest.
The restaurant's owners and employees (now and in the future) must undergo specific training regarding customers with service animals; signs must be posted on the exterior entrances of the business alerting patrons that persons accompanied by their service animals will be received; and the settlement also prohibits future discrimination at the restaurant.
"This is the second such case of discrimination against blind persons we have resolved with public settlement agreements in the past few months. Our hope is that this public recognition, payment of damages and penalties will prevent this kind of discrimination in the future," continued Mr. Brown. "Persons with disabilities are entitled to enjoy the same dining, entertainment, and lodging experiences as those without disabilities. In June 2011, our office sponsored a free, full-day seminar entitled 'Accessibility and Disability Rights' aimed at helping hotel, restaurant, retail shop owners, builders, architects, social workers and lawyers understand the ADA's laws and regulations."
In conclusion, U. S. Attorney Brown stated, "the Americans with Disabilities Act will be fully enforced in this District, but of course it is far better that no discrimination against persons with disabilities occur in the first place. If anyone has experienced similar conduct or other discriminatory actions based on their disability— including barriers to access to public accommodations, effective communications with deaf or blind, or other discrimination— please contact Assistant United States Attorney Gary Alan Moore at 251.441.5845 or email at gary.moore2@usdoj.gov."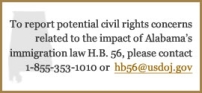 If you have any questions concerning disability discrimination, please call 251.441.5845 and ask for the Disability Discrimination Coordinator, or direct your inquiry in writing to:

U.S. Attorney's Office
Attn: Disability Discrimination Coordinator
63 South Royal Street
Suite, 600
Mobile, AL 36602
Natural Disaster
Fraud Hotline
If you believe you have been a victim of fraud from a person or an organization soliciting relief funds on behalf of storm victims or have knowledge of waste, abuse, or allegations of mismanagement involving disaster relief operations, contact the National Center for Disaster Fraud toll free at:
(866) 720-5721
You can e-mail it to: