Prichard Man Found Guilty After Jury Trial For Gun Violation
July 9, 2012
The United States Attorney, Kenyen Brown announces that Frank Howard, Jr., a 31 year old resident of Prichard, Alabama was convicted after a jury trial for being a felon person in possession of a firearm in violation of Title 18, U.S.C., Section 922(g)(1).
Evidence at trial showed that on April 28, 2011, Prichard Police officers responded to 319 Edison Street, Prichard Alabama after receiving a tip that there may be a car parked at an abandoned residence that may have been involved in criminal activity involving guns drugs and stolen merchandise. When officers arrived, they found Mr. Howard seated in the driver's seat of his grey Cadillac with two passengers. Officers arrested Mr. Howard and one passenger for drug related crimes and the other passenger for carrying a pistol without a permit.
During an inventory search of the vehicle, officers found a loaded Glock. 40 caliber revolver in the glove box of Mr. Howard's vehicle. At that time, Mr. Howard had been convicted of at least one felony and was prohibited from possessing a firearm.
Mr. Howard faces a mandatory 15 year sentence if he is found to be an armed career criminal. To be an armed career criminal, Mr. Howard must have three prior felony convictions for either crimes of violence or drug related offenses. He will be sentenced in October 2012. The Prichard Police Department investigated the case along with the Bureau of Alcohol Tobacco Firearms & Explosives and presented it to the U.S. Attorney's Office for prosecution. The prosecutor assigned to the case is Assistant United States Attorney, Gina S. Vann.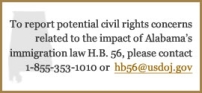 If you have any questions concerning disability discrimination, please call 251.441.5845 and ask for the Disability Discrimination Coordinator, or direct your inquiry in writing to:

U.S. Attorney's Office
Attn: Disability Discrimination Coordinator
63 South Royal Street
Suite, 600
Mobile, AL 36602
Natural Disaster
Fraud Hotline
If you believe you have been a victim of fraud from a person or an organization soliciting relief funds on behalf of storm victims or have knowledge of waste, abuse, or allegations of mismanagement involving disaster relief operations, contact the National Center for Disaster Fraud toll free at:
(866) 720-5721
You can e-mail it to: