Texas Cocaine Suppliers Sentenced In Federal Court
July 23, 2012
MOBILE, Ala. - Claudia Magdelena Perez-Leal, 38, and Luis Daniel Perez-Leal, 42, both of Hempstead, Texas, were sentenced in federal court today for their participation in an interstate cocaine distribution operation. The cocaine was smuggled across the border from Mexico to the Houston, Texas, area, where it was shipped via personal vehicles and a tractor trailer truck to other locations, including Mobile and Baldwin Counties, for distribution. The Perezes entered guilty pleas to the drug charges in January of 2012, with no plea agreements with the United States Attorney's Office. Count one, conspiracy to possess with intent to distribute cocaine, carried a penalty of 10 years to life imprisonment. Count two, attempt to distribute cocaine, carried a penalty of from 5 years to 40 years imprisonment. At the hearing, the attorneys for the Perezes conceded that their clients were accountable for the distribution of from 50 to 150 kilograms of cocaine under the advisory sentencing guidelines.
Senior United States District Court Judge Charles R. Butler, Jr., imposed the sentences this morning. The judge found that Claudia was more culpable in the scheme, based upon court documents and argument from the attorneys during the sentencing hearings this morning, and noted that the Perezes together traveled to Alabama on at least one occasion to deliver cocaine to Baldwin County with their children in the vehicle. Judge Butler sentenced Claudia to 216 months, 19 months below the 235-month sentence called for by the advisory sentencing guidelines and advocated by the prosecutor. The judge also required that Claudia be delivered to a duly authorized immigration official following the completion of her sentence for deportation. Claudia is a citizen of Mexico. If, for some reason, Claudia is not deported, she will be placed on supervision for a term of 5 years on Count One, and four years on Count Two, both terms to run concurrently. The special assessment of $200 was imposed, but no fine was ordered.
Luis, a U.S. citizen, was sentenced to 108 months imprisonment, followed by the supervised release terms imposed in Claudia's case, five years and four years, both to run concurrently. The statutory minimum sentence of 10 years did not apply in Luis' case because the judge found that he qualified for the safety valve provision, a guideline finding that provides relief from the statutory mandatory penalties. The same special assessment of $200 was imposed in Luis' case, and no fine was imposed.
The case was investigated by the Department of Homeland Security Investigations Division, the Mobile County Sheriff's Office, the Baldwin County Sheriff's Office, and the Drug Enforcement Administration. It was prosecuted by Assistant United States Attorney Gloria Bedwell of the United States Attorney's Office in Mobile.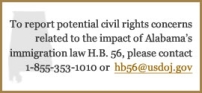 If you have any questions concerning disability discrimination, please call 251.441.5845 and ask for the Disability Discrimination Coordinator, or direct your inquiry in writing to:

U.S. Attorney's Office
Attn: Disability Discrimination Coordinator
63 South Royal Street
Suite, 600
Mobile, AL 36602
Natural Disaster
Fraud Hotline
If you believe you have been a victim of fraud from a person or an organization soliciting relief funds on behalf of storm victims or have knowledge of waste, abuse, or allegations of mismanagement involving disaster relief operations, contact the National Center for Disaster Fraud toll free at:
(866) 720-5721
You can e-mail it to: