Twenty-Second Anniversary Of Americans With Disabilities Act
July 26, 2012
MOBILE, Ala.-Kenyen R. Brown, United States Attorney for the Southern District of Alabama, observed a significant milestone in Civil Rights, stating "July 26th marks the 22nd anniversary of the Americans with Disabilities Act. Signed into law by President George H. W. Bush in 1990, the law now provides hope for over 55 million Americans with physical or mental impairments that substantially limit daily activities. President Bush's emphatic directive on that day—'Let the shameful walls of exclusion finally come tumbling down'—squarely framed the simple, yet overdue, message that millions of Americans with disabilities are indeed full-fledged citizens and as such are entitled to legal protections that ensure them equal opportunity and access to the mainstream of American life. The ADA reflects deeply held American ideals that recognize and honor the contributions individuals make when they are free from arbitrary, unjust, or outmoded societal attitudes and practices that prevent the realization of their potential. The ADA also reflects a recognition that America's continued vitality, strength and vibrancy depends upon the full realization of the contributions of all of its citizens".
Mr. Brown continued, "Our office and the Department of Justice are fully engaged in addressing complaints filed under the Americans with Disabilities Act. Recently our office has had several significant resolutions which successfully addressed protections for persons with disabilities in residential housing, access to privately owned public businesses (like restaurants, stores, hotels, etc.), and access to government facilities (state or local). We are beginning several new initiatives aimed to help those persons who are deaf or blind.
"Any persons with disabilities who believe they have been discriminated against in the Southern District of Alabama may contact our office at 63 South Royal Street, Suite 600, Mobile, AL 36602, telephone us at 251.441.5845 or they may file a complaint with the U. S. Department of Justice, 950 Pennsylvania Avenue, NW, Civil Rights Division, Disability Rights Section, Washington, DC 20530."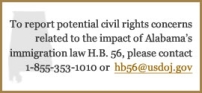 If you have any questions concerning disability discrimination, please call 251.441.5845 and ask for the Disability Discrimination Coordinator, or direct your inquiry in writing to:

U.S. Attorney's Office
Attn: Disability Discrimination Coordinator
63 South Royal Street
Suite, 600
Mobile, AL 36602
Natural Disaster
Fraud Hotline
If you believe you have been a victim of fraud from a person or an organization soliciting relief funds on behalf of storm victims or have knowledge of waste, abuse, or allegations of mismanagement involving disaster relief operations, contact the National Center for Disaster Fraud toll free at:
(866) 720-5721
You can e-mail it to: