Defendant Sentenced On Possession Of Firearm
July 26, 2012
United States Attorney Kenyen R. Brown announces today that Jason John Day of Fairhope, Alabama, was sentenced on July 23, 2012, by Chief United States District Court Judge William H. Steele, to thirty (30) months imprisonment following a guilty plea to a charge of being a prohibited person in possession of a firearm. Day is prohibited from possession of firearms and ammunition by virtue of his previous convictions for misdemeanor crimes of domestic violence. This offense is a violation of Title 18, United States Code Section 922(g)(9). Specifically, Day was previously convicted of Domestic Assault and Domestic Battery in Duval County, Florida, in 2006.
On January 28, 2012, at approximately 1:23 a.m., Fairhope Police Officer Ronald Wells observed Day pull out of the Jubilee Lounge at a high rate of speed, driving on the wrong side of the road, without headlights. Officer Wells stopped Day on County Road 13 in Fairhope. As Officer Wells approached Day's car he could smell alcohol. Day could not find his driver license and stated that he was drunk. After failing field sobriety tests, Day was placed under arrest. During the traffic stop, Day told Officer Wells that he had an AK-47 rifle in the backseat. A Romarm, 7.62 x 39 caliber rifle, with a round in the chamber, and a 30-round magazine loaded with nineteen rounds of ammunition was located in the backseat.
This case was investigated by the Fairhope Police Department and the Bureau of Alcohol, Tobacco, Firearms and Explosives. The case was prosecuted by the United States Attorney's Office for the Southern District of Alabama.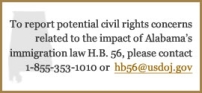 If you have any questions concerning disability discrimination, please call 251.441.5845 and ask for the Disability Discrimination Coordinator, or direct your inquiry in writing to:

U.S. Attorney's Office
Attn: Disability Discrimination Coordinator
63 South Royal Street
Suite, 600
Mobile, AL 36602
Natural Disaster
Fraud Hotline
If you believe you have been a victim of fraud from a person or an organization soliciting relief funds on behalf of storm victims or have knowledge of waste, abuse, or allegations of mismanagement involving disaster relief operations, contact the National Center for Disaster Fraud toll free at:
(866) 720-5721
You can e-mail it to: