Wilcox County Man Sentenced To 126 Months For Involvement In Drug Trafficking With The Use Of A Firearm
October 19, 2012
The United States Attorney Kenyen Brown announces that Alvin Jones, a 34 year old , Camden, Alabama resident, was sentenced today to 126 months incarceration followed by 5 years of supervised release for selling quantities of crack cocaine, marijuana and powder cocaine and using a firearm during and in relation to and in furtherance of the drug trafficking crimes.
In detail, on March 28, 2012, Mobile, Alabama police officers conducted a traffic stop on a 2012 Toyota Camry for a speeding violation. During the stop, officers ran a records check on the sole occupant and driver of the vehicle - Alvin Jones. Officers asked Jones for his driver's license and Jones complied stating that his license was probably suspended. The records check confirmed that Jones' license was, in fact, suspended. Officers then asked Jones to exit the vehicle. When Jones got out of the vehicle, officers saw a handgun on the driver's seat of the vehicle. The handgun is described as a Glock, model 27, .40 caliber pistol, serial number NYZ773. Jones was then handcuffed for officer safety. Next, officers learned that Jones was on a term of supervision for a prior federal felony and was prohibited from possessing firearms. Jones was arrested and placed in the patrol car. Since he was the sole occupant of the vehicle, officers were going to have the vehicle towed. Officers began an inventory search pursuant to police department tow procedures and found contraband. Officers found and seized approximately 57.7 grams of crack cocaine, approximately 291.6 grams of marijuana, approximately 2.4 grams of powder cocaine, digital scales and sandwich baggies. The drug amounts, scales and sandwich baggies are indicative of Jones' intent to distribute the quantities of drugs found.
Firearms are tools of the drug trade because they are used to protect the valuable product (illegal drugs) and the people selling the illegal drugs.
Jones also received a 24 month sentence for violating his supervised release term. This sentence will be served concurrently to the 126 month sentence Jones received.
The Drug Enforcement Administration (DEA) investigated the case and presented it to the U.S. Attorney's Office for prosecution. The prosecutor assigned to the case is Assistant United States Attorney, Gina S. Vann.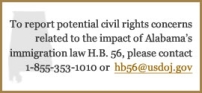 If you have any questions concerning disability discrimination, please call 251.441.5845 and ask for the Disability Discrimination Coordinator, or direct your inquiry in writing to:

U.S. Attorney's Office
Attn: Disability Discrimination Coordinator
63 South Royal Street
Suite, 600
Mobile, AL 36602
Natural Disaster
Fraud Hotline
If you believe you have been a victim of fraud from a person or an organization soliciting relief funds on behalf of storm victims or have knowledge of waste, abuse, or allegations of mismanagement involving disaster relief operations, contact the National Center for Disaster Fraud toll free at:
(866) 720-5721
You can e-mail it to: