Wilcox County Man Sentenced To 60 Months For Involvement In Drug Trafficking With The Use Of A Firearm
October 19, 2012
The United States Attorney Kenyen Brown announces that Orsker MC Irby, a 42 year old Camden, Alabama resident, was sentenced in August 2012 to 60 months incarceration followed by 3 years of supervised release for selling quantities of crack cocaine out of his home and using firearms during and in relation to and in furtherance of the drug trafficking crime.
In detail, a search warrant was executed at Irby's home and approximately 9 grams of crack cocaine and six firearms - a SKS assault rifle, serial number 12148525; Savage 22 rifle, serial number 0553907; Winchester 30-06 rifle, serial number 791024; Remington 12 gauge shotgun, serial number T23878; Winchester 12 shotgun, serial number 418965 and a Intratec 22 automatic pistol, serial number 090146 - were seized from the closet in his bedroom.
Irby confessed stating that he only sold small amounts of crack cocaine and that he bought the pistol for protection about five years before the search warrant was executed. He also stated that his wife did not know that he sold crack cocaine but did tell him to "stop doing whatever [he]was doing." Irby provided a written confession after waving Miranda Rights. Firearms are tools of the drug trade because they are used to protect the valuable product (illegal drugs) and the people selling the illegal drugs.
The Bureau of Alcohol, Tobacco, Firearms and Explosives, the 4th Judicial Drug Task Force and the 17th Judicial Drug Task Force investigated the case and presented it to the U.S. Attorney's Office for prosecution. The prosecutor assigned to the case is Assistant United States Attorney, Gina S. Vann.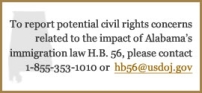 If you have any questions concerning disability discrimination, please call 251.441.5845 and ask for the Disability Discrimination Coordinator, or direct your inquiry in writing to:

U.S. Attorney's Office
Attn: Disability Discrimination Coordinator
63 South Royal Street
Suite, 600
Mobile, AL 36602
Natural Disaster
Fraud Hotline
If you believe you have been a victim of fraud from a person or an organization soliciting relief funds on behalf of storm victims or have knowledge of waste, abuse, or allegations of mismanagement involving disaster relief operations, contact the National Center for Disaster Fraud toll free at:
(866) 720-5721
You can e-mail it to: