Drug Dealer Sentenced In Federal Court
November 30, 2012
MOBILE, Ala. - Erlicia Danielle West, 24, of Jackson, Alabama, was sentenced today in federal court to 21 months imprisonment for her distribution of crack cocaine. West pled guilty to the charge on August 10, 2012, before Hon. Kristi K. Dubose. Judge Dubose also ordered that West serve a three-year term of supervised release to begin after she completes her sentence of imprisonment. The judge further ordered that West pay a special mandatory assessment of $100.
West's boyfriend and co-defendant, Ladravian Law, 32, also of Jackson, had been sentenced by Judge Dubose on November 9, 2012. Judge Dubose ordered Law to serve 96 months imprisonment following his plea of guilty to the crack cocaine distribution charges. Court documents reflected that Law and West sold crack cocaine to an undercover informant working with the authorities on several different occasions from February of 2012 through the end of April. At the time of the drug sales, Law was on supervised release from his first federal drug conviction. Judge Dubose revoked Law's supervised release term and ordered that he serve 33 months for that violation, concurrent with the 96-month sentence on the new charges. Law was ordered to pay $200 in special assessments, and will serve a six-year term of supervised released when he completes his prison sentences.
The case was investigated by the Clark County Drug Task Force, the Clark County Sheriff's Office and the Jackson, Alabama, Police Department. It was prosecuted by Assistant United States Attorney Gloria Bedwell.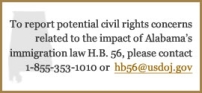 If you have any questions concerning disability discrimination, please call 251.441.5845 and ask for the Disability Discrimination Coordinator, or direct your inquiry in writing to:

U.S. Attorney's Office
Attn: Disability Discrimination Coordinator
63 South Royal Street
Suite, 600
Mobile, AL 36602
Natural Disaster
Fraud Hotline
If you believe you have been a victim of fraud from a person or an organization soliciting relief funds on behalf of storm victims or have knowledge of waste, abuse, or allegations of mismanagement involving disaster relief operations, contact the National Center for Disaster Fraud toll free at:
(866) 720-5721
You can e-mail it to: