Fidelity Bonding At No Cost!
Bonds (or work rlated insurance policies) have been purchased at no cost to the employer or prospective employee through the Mobile Weed & Seed Program, which is a Department of Justice program administered through the City of Mobile. Please contact Eric Day, of the U.S. Attorney's Office, to sign up for a Fidelity Bond today.
Each Fidelity Bond covers each ex-offender hired for the first six months of employment up to the amount of $5,000.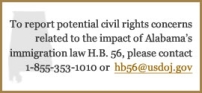 If you have any questions concerning disability discrimination, please call 251.441.5845 and ask for the Disability Discrimination Coordinator, or direct your inquiry in writing to:

U.S. Attorney's Office
Attn: Disability Discrimination Coordinator
63 South Royal Street
Suite, 600
Mobile, AL 36602
Natural Disaster
Fraud Hotline
If you believe you have been a victim of fraud from a person or an organization soliciting relief funds on behalf of storm victims or have knowledge of waste, abuse, or allegations of mismanagement involving disaster relief operations, contact the National Center for Disaster Fraud toll free at:
(866) 720-5721
You can e-mail it to: