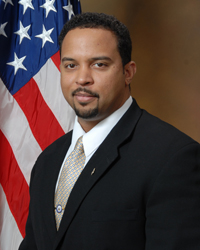 President Barack Obama nominated Kenyen R. Brown on August 6, 2009, to serve as United States Attorney for the Southern District of Alabama. He was confirmed by the Senate on November 21, 2009, and entered on duty on December 4, 2009, as the first African-American to serve as a United States Attorney in the history of the State of Alabama.
Since beginning his service as United States Attorney, Brown has been committed to making every community in the Southern District of Alabama a better place to live. Statistics maintained by the United States Attorney's Office indicate that CY 2011 has been the second most prolific year of productivity in ten years in terms of the number of criminal cases brought and defendants indicted. During most of FY 2011 the Southern District of Alabama has led the nation in firearms prosecutions per capita population.
With the vision that his law enforcement role is not limited to prosecutions, Brown has spearheaded an effort to help ex-offenders successfully re-enter society without committing new crimes or returning to jail. The initiative—Project H.O.P.E.-Helping Offenders Pursue Excellence—tries to address every need of the ex-offender including transportation, vocational training, housing, and employment among others. As part of Project H.O.P.E., Brown has hosted an Ex-Offender Employment Workshop and an Ex-Offender Only Job Fair.
Through Brown's leadership the U.S. Attorney's Office has also successfully litigated significant civil rights claims on behalf of minority community members and the disabled. In one fair housing case the U.S. Attorney's Office recovered over $1.2 million on behalf of a disabled person that was denied a reasonable accommodation from an apartment complex. The settlement in this case represented the largest recovery ever obtained by the Department of Justice on behalf of a plaintiff in a fair housing case.
Prior to his appointment as United States Attorney, Brown spent more than ten years working for the United States Congress in the Senate and House Ethics Committees. While serving as counsel and Director of Education and Training for the Senate Ethics Committee, Brown investigated allegations of misconduct by Senate Members and staff, provided written ethics guidance to Senate Members and staff with respect to proposed conduct, and provided ethics training to all Senate personnel. Subsequently Brown accepted a position with the Ethics Committee of the United States House of Representatives as Deputy Chief Counsel, with his service culminating as Acting Chief Counsel and Staff Director.
Brown is a graduate of the University of Alabama and the University of Tennessee School of Law. Brown has devoted his career to public service, serving as an Assistant District Attorney for the Fifteenth Judicial Circuit in Montgomery, Alabama, Assistant United States Attorney for the Southern District of Alabama in Mobile, where he prosecuted drug offenses and an array of general crimes.
Updated March 2, 2015