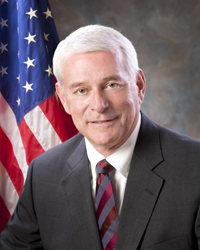 Michael W. Cotter was nominated by President Barack Obama to serve as the United States Attorney for the District of Montana. He was confirmed by the United States Senate on December 24, 2009, and sworn in as Montana's 39th United States Attorney on December 30, 2009.
Mr. Cotter's family hails from eastern Montana. He graduated from the University of Notre Dame in 1971, receiving a Bachelor of Business Administration degree. He served in the United States Army as 1st Lieutenant from 1972 to 1974 and was honorably discharged. He received a Masters of Business Administration degree from the University of Utah and earned his law degree from the University of Notre Dame in 1977.
Mr. Cotter is a member of the State Bar of Montana. While in private practice, he specialized in complex workplace accident litigation in both federal and state court. He also dedicated a portion of his practice to representing individuals and businesses charged with state and federal crimes.
Mr. Cotter is married to Patricia, an Associate Justice of the Montana Supreme Court. They have two adult children.
Updated March 3, 2015