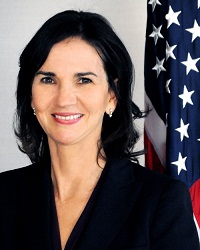 Deirdre M. Daly became Acting United States Attorney for the District of Connecticut on May 14, 2013, after David B. Fein stepped down as the top federal law enforcement official in Connecticut.  Ms. Daly had served as First Assistant United States Attorney since July 2010.
From 1985 to 1997, Ms. Daly was an Assistant United States Attorney in the Southern District of New York, where she prosecuted cases ranging from racketeering, murder, narcotics and money laundering to fraud, corruption and police brutality, and served as the Assistant-In-Charge of White Plains Office for three years.  After leaving the Department of Justice, Ms. Daly was a partner at Daly & Pavlis LLC, a Connecticut law firm with a practice focused on corporate and commercial litigation, white-collar criminal investigations, SEC enforcement actions and corporate internal investigations and monitoring.
Ms. Daly served as a law clerk for the Honorable Lloyd F. MacMahon, U.S. District Judge for the Southern District of New York from 1984 to 1985.  She is a graduate of Dartmouth College and Georgetown University Law Center.
Updated April 27, 2015