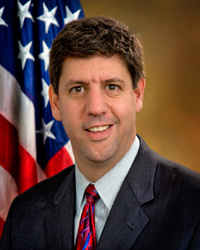 Steve Dettelbach loves being United States Attorney – he calls it the second best job he has ever had.  He still says that the best job in the government is being a line prosecutor, a position he held for well over a decade in four different offices.
"Being an AUSA is the best job in the world," Dettelbach said. "You can really make a difference and it's fun to boot"
Dettelbach spent time at the Justice Department's Civil Rights Division, Criminal Section, and U.S. Attorneys' offices in Maryland, Washington, D.C., and the Northern District of Ohio.  He also did a stint on the Senate Judiciary Committee (2001-2003) and as a partner at a large law firm before being appointed United States Attorney for the Northern District of Ohio.
Those experiences were on Dettelbach's mind when he established a dedicated Human Rights Section shortly after becoming the U.S. Attorney.  That unit has brought a dozen trafficking cases in less than a year.  He also has been named Chair of the Civil Rights Subcommittee of the Attorney General's Advisory Committee and envisions increasing the role of United States Attorneys' offices in civil rights enforcement, alongside the Civil Rights Division.
Dettelbach, 45, spends his time away from the office with his wife, Karil, and their two children.
Updated March 3, 2015