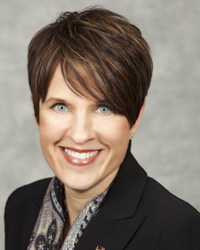 Laura E. Duffy was sworn in as the United States Attorney for the Southern District of California on June 2, 2010. The District encompasses San Diego and Imperial Counties, with approximately 3.1 million residences, more military installations than in any other district in the United States, and the world's busiest land port of entry.
Duffy joined the United States Department of Justice in 1993 as a member of the Attorney General's Honors Program. From 1993 to 1997, she was assigned to the Washington D.C. Criminal Division's Money Laundering Section and later to the Narcotics and Dangerous Drugs Section. In 1997 Duffy became an Assistant United States Attorney in the Southern District of California.
Prior to being sworn in as U.S. Attorney, she was a Deputy Chief in the General Crimes Section of the office. From 1997-2008, Duffy served as an Assistant U.S. Attorney in the Narcotics Enforcement Section where she prosecuted large-scale, international drug trafficking and money laundering organizations. Duffy's work resulted in the U.S. Government's securing unprecedented extraditions of Mexican nationals on drug trafficking and money-laundering charges as well as U.S. convictions against some of the most notorious, high-ranking, Mexican cartel leaders to operate in the Western Hemisphere over the last two decades.
Duffy received her undergraduate degree in 1988 from Iowa State University and her law degree in 1993 from the Creighton University School of Law. Duffy is married and has one son.
Updated March 2, 2015