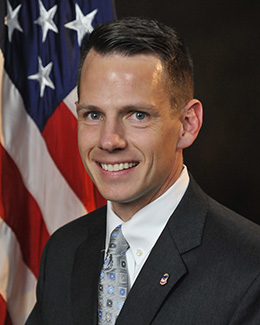 William J. Ihlenfeld, II, was nominated by President Obama on May 27, 2010, to serve as the United States Attorney for the Northern District of West Virginia. He was confirmed by the United States Senate on August 5, 2010.
Ihlenfeld has devoted his career to public service, having served for ten years as an Assistant Prosecuting Attorney in Ohio County, West Virginia, and for three years in Brooke County, West Virginia, before assuming his current position. As an assistant prosecutor he successfully handled hundreds of felony cases, was honored by the Drug Enforcement Administration for his outstanding contributions in the field of drug law enforcement, and served on the West Virginia Supreme Court's committee for the creation of model criminal jury instructions.
In addition to his work as a prosecutor, Ihlenfeld practiced law with his father for 13 years. He also served on the boards of several non-profit organizations, including the Seeing Hand Association and the Wheeling Touchdown Club Foundation.
Since becoming United States Attorney Ihlenfeld has implemented several new initiatives, including the Mountaineer Highway Interdiction Team, the Northern District Financial Crimes Task Force and a comprehensive anti-violence strategy known as Project POWER.
Ihlenfeld is a graduate of Ohio University and the West Virginia University College of Law and resides in Wheeling with his wife and three children.
Updated April 28, 2015