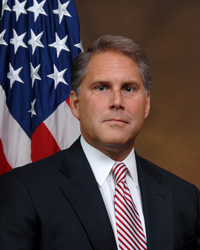 John P. Kacavas was appointed United States Attorney for the District of New Hampshire by President Barack Obama on August 13, 2009. John is Chairman of the Attorney General's Advisory Committee (AGAC) Forensic Science Working Group, and he is the U.S. Attorneys' representative on the White House Office of Science and Technology Policy Subcommittee on Forensic Science.  He is a member of the AGAC Subcommittee on Criminal Practice, and the Child Exploitation and Obscenity Working Group.  He also serves on the New England High Intensity Drug Trafficking Area (HIDTA) Executive Board.
John began his legal career at a private law firm in his hometown of Manchester following his admission to the New Hampshire Bar in 1990.  He began his career in public service in 1993, when he became a prosecutor with the New Hampshire Attorney General's Office.  From 1993 to 1999, he served as an assistant attorney general, senior assistant attorney general and chief of the homicide unit,  during which he prosecuted several high profile cases, including a case involving New Hampshire attorney featured in a book entitled "Legally Dead.."  John then joined the U.S. Department of Justice as a trial attorney in the Criminal Division in Washington, D.C. from 1999 to 2000.  Before becoming U.S. Attorney, John spent the previous nine years in private practice, having founded the firm of Kacavas Ramsdell & Howard in Manchester.
In 1996, John was awarded the 1st annual Robert E. Kirby Award by the New Hampshire Bar Foundation.  Selected by a panel of federal and state court judges, the award recognizes an attorney, 35 years-old or younger, who exemplifies skilled advocacy, civility and perspective in the practice of law.
John graduated with a B.A. in political science from St. Michael's College, an M.A. in international affairs from the American University School of International Service in Washington, D.C., and a J.D. from Boston College Law School.
Updated March 3, 2015