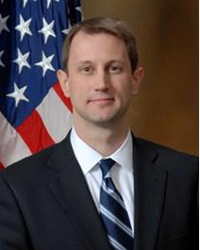 On September 25, 2009, President Barack Obama nominated Nicholas A. Klinefeldt to be the United States Attorney for the Southern District of Iowa. The United States Senate unanimously confirmed Klinefeldt's nomination on November 21, 2009, and he was sworn into office on November 25, 2009.
Prior to his appointment, Klinefeldt practiced civil and criminal law at the Des Moines law firm Ahlers & Cooney, P.C. and practiced complex criminal litigation in Boston, Massachusetts at the law firm LibbyHoopes, P.C. He clerked for U.S. District Court Judge Robert W. Pratt of the Southern District of Iowa and Chief Justice Christopher J. Armstrong and Justice Benjamin Kaplan of the Massachusetts Appeals Court.
Klinefeldt received his B.A. with honors and his J.D. with distinction from the University of Iowa.
Updated March 3, 2015