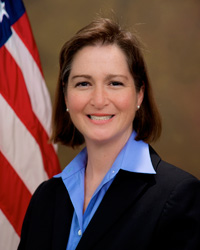 Barbara L. McQuade takes to heart former Attorney General Eric Holder's advice that Assistant U.S. Attorneys should be not just case processors, but community problem solvers. The U.S. Attorney for the Eastern District of Michigan says "We want to use the resources of the U.S. Attorney's Office to improve the quality of life for the people of Michigan."
For that reason, McQuade has set priorities to meet the district's current challenges: national security, violent crime, public corruption, civil rights and financial fraud, including mortgage fraud, health care fraud, and environmental crimes. McQuade, appointed by President Barack Obama, began serving in January 2010, by restructuring the office for the first time in more than 35 years. The goal was to align attorney resources with the priorities of the district.
"Our work can have a significant impact on our region by improving public safety, deterring corruption, enforcing civil rights, combating fraud, and protecting our natural resources," McQuade says.
The first woman to serve as U.S. Attorney for the Eastern District of Michigan, McQuade was as an Assistant U.S. Attorney in Detroit for 12 years. She served as Deputy Chief of the National Security Unit, where she prosecuted cases involving terrorism financing, foreign agents, export violations, and threats. During her career as a federal prosecutor, Ms. McQuade has also prosecuted cases involving violent crime, fraud and racketeering.
Before joining the U.S. Attorney's Office, McQuade worked in private practice and served as a judicial law clerk. She and her husband have four children.
Updated September 9, 2015